.
Ah, Paris.
They say that third time's a charm, but in truth every visit I've made to Paris has been a unique experience that remains memorable in its own special way. In July, one of my closest girlfriends and I took an overnight bus from London to Paris – and it being her first time in the city of lights and love, I was eager to plan ahead for the best possible first brush she (or anyone) could possibly have with Paris. I browsed airbnb accommodation options for ages – and just as I was about to book a charming place in Montmartre, a private room in this mod apartment in Dupleix opened up. The clincher? It was right under the Eiffel.
When we walked in Xiaoqi went oh my and it was then that I knew that I'd nailed it. For what better way to get acquainted with Paris than sleeping under the Eiffel? Even for non-first timers like me, it was quite the experience..
In photos (though still impressive) it is less obvious I feel, but when you walk into the bedroom the Eiffel literally towers over you. Through the lens of the camera crop it seems further away, but in real life..
It's so big, Xiaoqi breathed, and I had a real struggle resisting the urge to quip that's what she said.
Our host was a frenchwoman named Valerie who is, and there is no other way to put this, a cool mom. She's a middle aged woman who looks remarkably like the dancing whatsapp emoji – she even wore the same red dress – and chatted happily to us about her children. I regret not getting a photo of her, but being french, she refused pictures unless she looked absolutely glamorous, and every attempt to take a picture with her was met with a but I look terrible!.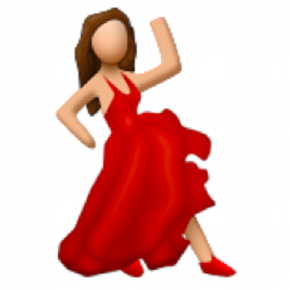 NB: She did not.
Still, photo or not, she insisted on giving us the full Parisian experience, ducking out to get fresh baguettes, fruit, and tea/coffee for us in the morning, and offering us access to both her balconies, where we could have our breakfast while overlooking the bustling streets.
She's also very proud of her tableware!
In return, we downloaded and taught her how to use whatsapp, after which she promptly spammed her children with
HI MUMMY LOVES YOU WHERE ARE YOU NOW
messages. We also taught her how to send voice notes, and in this way an evening was spent watching her try to make kissy noises into her phone to her children, who were at that time out of town. Ah, modern technology. How great.
Our apartment was situated two minutes from the Dupleix station, which meant that it was about a seven minute walk from the big boy itself. Despite how central it was, the actual building we stayed in was tucked in a small street along the main road, creating a serene sort of bubble within the apartment without compromising on location. (Read: a very peaceful sleep.) Pragmatic application though, meant that we saved a ton on trains by walking nearly everywhere..
picnicing under the eiffel: totally possible, 10/10 would recommend.
But the real magic happened at night.
*Here I resist the urge to make another inappropriate joke..*
With every European city I visit, I try to make it a point to dine in at least once. Maybe it's something to do with my long born association of home cooked food with intimacy, or simply an underlying desire to budget, but truth be told I find myself looking forward to making a meal in each new city I visit. I derive a strange pleasure from perusing the aisle of different supermarkets in various countries. I get excited over the cost of cheese abroad.
All the cheese…
There was a supermarket just down the road from our apartment, and a Laurent DuBois halfway between the train station and our place, so we picked a night and did our groceries, bought some wine, and topped it off with a selection of takeaway cheese before heading back to prepare dinner.
The entire meal cost us less than twenty euros in total. The dish itself was nothing fancy, just a one-dish kinda meal that I used to make in Germany. For those of you interested, it's a citrus tuna pasta, and I've blogged about the recipe before here.
But the star of the meal, obviously, wasn't what we ate, it was how we ate.
And boy, did we do it fine.
We carried the pan out to the second balcony, the one covered in faux-grass facing the Eiffel, set it down on the little table, and poured out the wine. Settled down on the foldable chairs, unwound slowly, and watched the Eiffel descend into glow.
"Did you ever forsee this?" Xiaoqi asked.

"What?"

"Us. Having dinner one day and drinking on a little french balcony that overlooks the Eiffel."

"Not in such specific terms, but if it were going to happen, I'm not surprised that it's happening with you.'
Situations like these are often depicted as romantic, or in the context of movie first dates. But with pop culture and the over romanticisation of, well, life, we often forget about the love that is specific to friendships, a love that is as legitimate as any other. I find that people tend to only actively build on their friendships when they're single, and divert it all to their significant others when they get attached. I blame Hollywood, but I get it. Friendship doesn't sell the same number of seats an intense, kiss in the rain movies do. All the same, it doesn't hurt to remind yourself once in awhile to make quality time for your girlfriends. As you get older, I think you start to learn to treasure your friendships around you more – you could argue that this shouldnt be something one has to learn, but hey, realisation is the first step..
We slowly emptied the bottle of wine together over good conversation and increasingly speculative thoughts about life and the future. It's what happens, I guess, when you take proper time to sit down and get to talk properly with your phones away, instead of just catching up while doing other things, like shopping, or watching a movie. When you sit down for a meal together you consciously carve out a space and say: here, this is for us. Tell me about your day. And so we did.
When we finally wrapped dinner up it was about midnight. We marvelled at how ideal the dinner situation was – if we'd booked a restaurant with half as good a view as the one we had, we'd be paying through our noses and ordering off menus we didn't understand with a curfew to boot. As it was, we ate slowly and chatted without worrying about hovering, throat clearing waiters, and we were stuffed by the end of it. You see what I mean about carving out your own memories? That dinner – I'd remember it forever.
Paris was over for us in a breath, too soon, and even though it's my third time in Paris, its charm for me still hasn't dimmed in the slightest. This time round was uniquely magical – and I don't think it's a coincidence that it's because I stayed in one of the dreamiest places in the world.
You can find the listing I stayed in here, or get $35 off your first stay with Airbnb at airbnb.com/jemma.
x
♥jem