I've never been much of a watch person since young – timepieces to me were decorative at best, I had an assortment of cheap cat-faced and sparkly ones that I kept losing, and I viewed them more as chunky bracelets than time telling instruments. It truly is a sign of coming of age then, that I've grown into loving them so much that I never leave my house without one resting on my wrist. Proper timepieces – not the playthings I had as a child – aren't just fashion accessories, they're classic statements that grow with you and that you can keep for years to come.
Photo: Cepheus Chan
You know that scene in Mean Girls where all the Plastics are comparing their nails and hair in Regina George's place and it's a whole new world for Cady? That's how I felt when I first started wearing watches. I used to think there was just Watch, and No Watch. Nein. Apparently there's a whole world of watches out there to suit every occasion and outfit – and once you start there's no going back. I now have a casual Swatch (bought in Germany, featured here), a classic brown leather strapped DW, a gorgeous navy thin leather strapped Guy Laroche number, and I've recently added the most gorgeous mechanical rose gold piece from Arbutus New York to my growing collection. I've quickly come to realize that I have a thing for masculine watches, having selected two watches from male lines of other brands before, but also for those with a softer tinge, often meaning something with a rose gold element.
Photo: Cepheus Chan
I've taken to thinking of my Arbutus as my first real "grown up" watch. The reason why is straightforward – it's incredibly old school and proper, like something a dignified British man would consult while drinking tea and pouring over his map of the world. The Arbutus is an exquisite, fully mechanical watch with a deployment clasp over the typical watch buckle, meaning that it doesn't run the risk of wear and tear at the point where you pull normal watch straps back while wearing them. You have to wind it a little every day to set it, or if you don't wear it for awhile – see what I mean about it being so old school? – because the mainspring is wound automatically as a result of the natural motion of the wearer's arm. This may seem like additional hassle at first if you're not the type to keep to one watch every day, but the action of winding it first thing each morning really frames your mindset with some semblance of order and routine. Besides, there's a whole different class of people who enjoy timepieces that offer self-winding, automatic movements, chronographs, and moon phases – it really is a purist, as far as watches go.
Photo: Cinch
If there's one thing I've learnt about watches though, it's that guys tend to love them a whole lot more than we girls do – something to do with their limited choices when it comes to accessorizing, perhaps. I took the Christmas season as a chance to gift both my boyfriend Shane and good friend Marcus with Arbutus New York watches in two of my favorite designs which I thought would remain classic timepieces that matured with them and remain suitable for wear till they were old and grey – the AR713RWF (Classic Roman Calendar) and the AR715RWF (Classic Ceramic Series).
Photo: Drea
Aren't they gorgeous? I think so. I myself am wearing one of the Classic Ceramic series watches and I love how classic and serious they look! Here's a watch that says I mean Business, and my Business is looking good. Yes, thank you.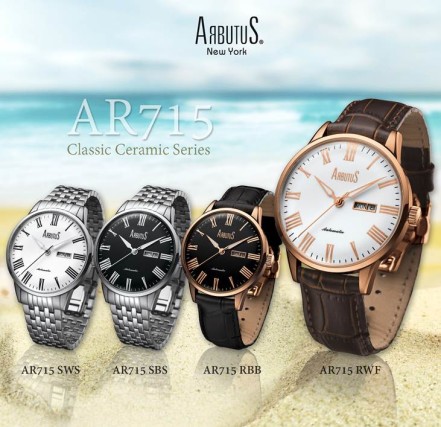 Photo: My Dad! Heh.
If you want to get your own Arbutus timepiece, here's a sweet 20% off all Arbutus Timepieces if you quote "Arbutus with Jemimah" at CK Tangs Orchard, CK Tangs Vivo, Robinsons the Heeren, and OG Orchard Point from now till the year end. My personal favorites are the Classic Roman Calendar series, which feature a bevy of really smooth features, like the displaying the phases of the moon – but they're really popular, so let me know if you managed to get your hands on one!
Festive greetings, everyone x
X
♥jem