Everytime someone turns to me goes I love fall/winter I'm just like What are you talking about this is Singapore. But then I went and filmed an entire episode yakking about fall/winter trends so i guess i should shut up now. Despite what i say, I kind of get it though- the fall/winter trends are so gorgeous, if slightly impractical due to weather woes, and this season's emphasis on leather piling and bright tones are so amazing i want to cry. If i ever migrate you'll know weather is the reason.
Anyway, i.t Labels Singapore invited Drea and I down a couple of weeks ago for their breakfast tea party x fall winter launch preview, and I just wanted to stuff my face in all the .. fabric. Check out the detail on that embroidered wool sweater. And the quilted take on the varsity jacket. Goodness. i.t Labels Singapore is a multilabel concept store that features Asian designers, which i love because 1. it's so unique 2. each designer has a very distinct style and 3. it's tailored to asian weather!!
Here I'm dolled from head to toe in fifty shades of leather from various brands in i.t
And obviously i'm adopting the multi leather pairing trend, because.. leather. People are always asking me how i survive in leather despite the weather but hey, nobody said love was easy am i right. Besides, it's relatively cooler in singapore now thanks to the rain, so.
Thanks for the invitation, i.t labels singapore!
Speaking of fall/winter trends, we filmed an episode exclusively about that lately. I'm only about, see, two weeks late in posting about it, but you can watch it here:
I filmed this while on a 38.5degree fever so i couldnt remember anything i said in the episode but noone seems to have noticed in the final cut that i was completely drugged the entire way, so i guess it's a good thing. And also that I should take Panadol before filming every episode in the future.
Other things I've been up to include:
Turning twenty one at midnight at the glamorous Sky Grand Prix F1 party held at Zafferano. I know it's customary for people to throw parties for their twenty first but it's really not my kind of thing (read: I'm too lazy) so I just hitched on existing parties as an excuse to drink champagne and get dressed up. And also somehow i tend to fall for this every year.. but I got kidnapped again and whisked to a birthday surprise from one end of the island to the other.
This bunch of people are just damn amazing they also threw me the most amazing twentieth birthday party last year and I'm apparently going for a short surprise holiday in KL next week with Drea, Cinch and Han for my twenty-first.
I also had various birthday meet up dinners over the last couple of weeks with my Secondary school/ JC/ etc friends which was very gratifying because it was basically an excuse to get my ass out of NTU and meet people i havent seen in forever:
Terrible lighting but here's my girl clique of nine years x
Also, more friends got married:
And while the miracle of love and marriage is beautiful, I'm just putting it out there that I'm going to get married at 5pm because no way am i waking up at some unholy hour to march down the aisle. I've already told my mum not to expect any sort of 4am tea thingy because Do you want my eternal happiness or a cup of tea? To which she got all grumpy, so.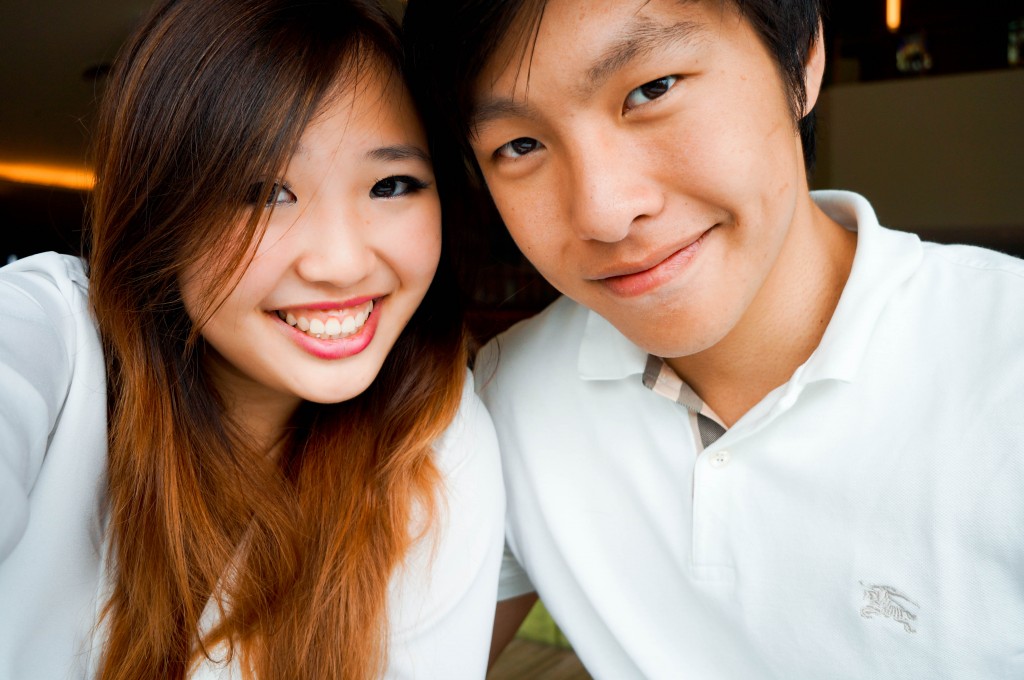 And lastly, my sweetheart of a best friend came and left Singapore in what was too short a month.. but what a wonderful month. All fingers crossed nothing goes wrong, but I'm heading up to England to spend christmas and new years with Fred, so all in all i guess there's a lot to look forward to and life is good x
x
♥jem