You're twenty, a friend told me lately, and have no right to use the phrase bucket list. You're basically a baby. I do this, I fall in and out of phrases and words like favorite jackets of the month and season and etcetera. Last month it was So Much Love and for a period of time last year everything fell into two categories: coherent and not-coherent, as in, my face is so not coherent this morning. Recently it's been bucketlist– i'd look at things and yell BUCKETLIST! even if it's just the most mundane run of the mill things like.. getting my nails done in the glitter gradient thingy that's all over tumblr right now. Yes. Frivolity, i know.
So I made a deliberate effort to kick the word but i believe this situation calls for a hall pass. I've said this so many times but I honestly think asian cuisine has some of the most amazing food- chinese, korean, jap.. and among others, thai. Oh my heart. Who knew plain rice and an omelette could taste like a hundred bucks? Not I. Anyway, my short but frequent romps in bangkok over the past year yielded some pretty fantastic places, I've no idea why I didnt write this post earlier. Actually yes i do, it's because im lazy. But late or not, here we go:
When a place spins off it's own line of fake restaurants you know it's got to be quite something. Apparently there's a whole line of Somboonleee seafood restaurants in thailand trying to ride on the success that is Somboon.. which is quite hilarious because it's resulted in Somboon yelling indignantly all over their online and print adverts: WE ONLY HAVE FIVE OUTLETS and BANGKOK ONLY!!!
They're really quite famous and the food is really good too- we had their signature curry crab egg thingy, an omelette, fried grouper, asparagus and prawns, topshell, tomyum, and a whole bloody plate of hum. (is that how you say it?) Call me a novice but it's my first time trying most of these things- I've never had crab, asparagus, prawns, tomyum or hum before. I flat out refused to try the topshell because it reminded me of snails. I mean, the thing lives in a conch shell. Dude. Anyway, in spirit of adventure and trying new things I ventured a taste at the rest of the stuff and it's actually.. pretty damn good. Especially the crab, everyone has got to try that stuff.
The entire meal amounted to about twenty SGD/pax for the four of us, which is some insane value for money. It was so satisfying.
Either way, where can you get crab for twenty dollars? You tell me. Definitely a must visit when you get to Bangkok, possibly right after touchdown and check in. BUCKETLIST!
Somboon Seafood
Bantadthong
895/6-21 Soi Chula 8, Bantadthong Rd
Wangmai, Pathumwan, BKK 10330
T: 02-216-4203-5
Four other branches at Surawong, Ratchada, UdonSuk and SamYan- website and relevant addresses here.
2. After you dessert cafe

I've always known there was some sort of crazy famous dessert cafe at the Siam Paragon basement but never knew exactly what or where it was. After Mart and I sauntered into Paragon on impulse not knowing where we were going it was obviously blamed on me being "a woman" as usual with no sense of general direction.. but i digress.
The queue was crazy long so we decided to do a take out and eat on benches outside, explaining the plastic presentation and generally messily snapped photos in a hurry, but a quick google search will show you photos that do the food much more justice. We just had dinner, mind you, and after a moment of simultaneous epiphanies post-first-bite, we were shoveling the dessert into our mouths. Done in ten minutes, how embarrassing. But it was SO amazing! We had their famous Shibuya Honey Toast and Chocolate Fondant, and both were incredible. It was like all my Christmases had come at once. Such a guilty pleasure, but so worth it. BUCKETLIST!
How to get there:
After You Dessert Cafe
Siam Paragon Ground Floor
(follow the long queue or the smell of heaven)
http://www.afteryoudessertcafe.com
Other branches located throughout the city.
3. Street food opposite the Pratunam Big C Supermarket

If you come to Bangkok without eating here, you're doing Bangkok wrong. I make it a point to drop by at least once per trip to bangkok, and this time we came here two consecutive nights running. It's a line of street food that opens at night opposite the Big C supermarket in Bangkok, Pratunam, which is just across the canal from Novotel and Platinum Mall. I discovered this place by happy accident with Lexy and the rest of the litkids sometime last October and I swear, sometimes we still dream about this place. There's just something about eating perched on plastic temporary chairs by the street..
Must trys include the Tillapia fish (that HUGE fish rubbed with sea salt is only 150Baht!!!), Tomyum (made some people cry), and egg omelette. There are plenty of other things on the menu but these are the staples- they're really insanely good. I can't take spicy food to save my life but i downed about half that bowl of tomyum still, which should tell you something. Everything is so, so good, and like i've mentioned before, the experience of eating roadside street food is quite something. BUCKETLIST!
When you should visit: First or second night, then head to Big C supermarket to stock up on bottled water/yakult/fruits.
How to get there:
Pratunam Street Food
Walk down from Platinum shopping mall to Novotel hotel, then continue down along the canal till you see the row of street food stalls opposite big C supermarket.
The recommended stall is the one RIGHT behind the newly constructed busstop with this really pretty thai girl (lol)
Pratunam, Ratchathewi, Bangkok, Thailand
4. Pier 21 @ Terminal 21 shopping mall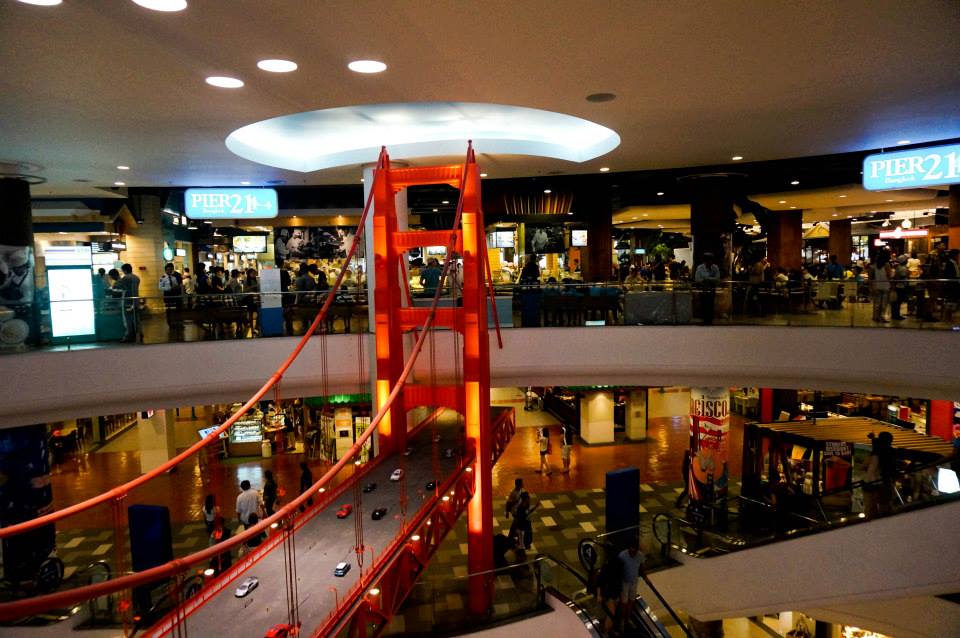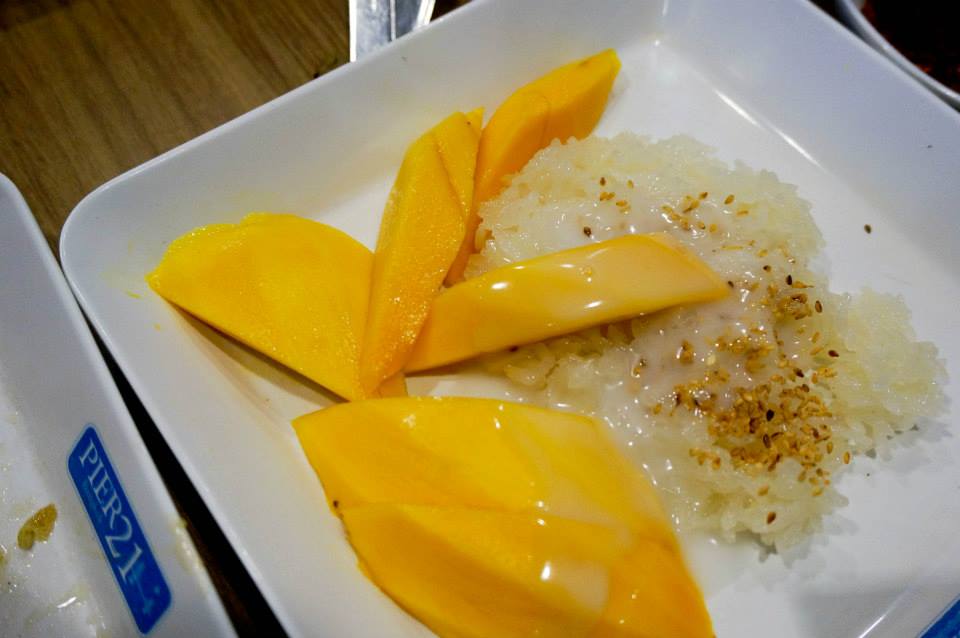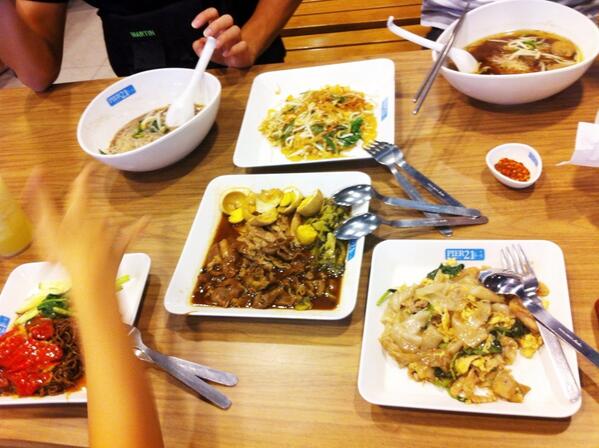 `
`
`
`
`
`
`
`
`
`
`
`
`
`
`
`
`
`
`
`
`
`
This last shot was hastily taken with my iPhone, which explains the grainy and slightly blurry quality.. but honestly by this point in the trip I think the rest were fed up of waiting for me to snap pictures while they were raring to dig in. Anyway, to the point- Andrea and I visited Pier 21 in January but didnt think much of it, maybe we ordered the wrong stuff or something, so I wasnt too keen on visiting this place again but Edwin really, really liked it so we came back and boy oh boy was I wrong about the place. Pier 21 is the food court at the top level of the travel themed novelty mall Terminal 21, and operates on the same marche-style card system the Platinum food court does.
The thing about Pier 21 is, it's insanely cheap. I dont know why i didnt realize this the last time round- probably because with the card system you just tap and go without really taking note of the prices. This time though, it was pointed out to me that the food costs at least half of what the food over in Platinum costs. A main dish averages thirty baht here vs. the seventy you'd be paying in platinum- and the food is so tasty!! Of course, with the cheap prices you'll tend to feast, so we had quite the variety: stir fried kuay teow, beef ball noodle soup, roasted duck soup, pad thai, this pig trotter thing, and mango sticky rice. Pineapple and coconut juice on the side. I thought everything was good, but apparently the beef ball noodle soup is legendary, so do try that if you're visiting. Either way, good food and low prices? BUCKETLIST!
Pier 21
L5,Food Terminal, Zone San Francisco, Sukhumvit Road Soi 19, Terminal 21, North Klong Toei, Wattana, Bangkok 10110, Thailand
——————–
Alright, I know there are probably a ton of other great cafes and restaurants in Bangkok, but these were the ones that stood out for me on a trip spent roaming around central areas ie. convenient and really fantastic places that you dont have to go out of your way to travel to. I was whatsapping the food photos to Drea and she commented wistfully that we'd never get to eat things like these because two girls on a trip usually means you probably wont even finish your own food, let alone try all this amazing stuff. The thing about bangkok this time round was, with the two guys and their monster appetites, we tried so much more than we usually would have been able to in terms of variety, and it was really such an appethaising trip. Mmmm. Too cheesy for a pun? That's okay. Everyone likes cheese.
x
♥jem
PS. All photos in this post (except the iphone pier21 one) taken with the Sony Nex 5r c/o Sony Singapore.