I think people underrate our view here in Singapore. I remember a night in Brooklyn a couple of years back, staring at the city skyline over at Manhattan, New York, and proclaiming (really loudly) "The Singapore Skyline is just as nice you guys". Suffice to say the Americans were not amused. But honestly, have you seen our riverside skyline? Mmmm. That's what I'm talking about. Last Friday was Vesak Day which essentially meant waking up went down something like this: GOODMORNING oh no work today very good GOODNIGHT. Halfway through the day I was coerced into going cycling with Shane and Joshua at East Coast Park, which, you know, is just about as summer-ish as you can get.
Obviously my color coordinating skills only go one way:Obvious. My nails were already freshly minted in blue-green, so obviously i turned up in a popsicle sky blue top (Fox-Out, you can get it here. Thanks guys!) tied around the waist and a darker blue pleated skirt from Bangkok. One hundred and fifty baht, what up. Shoutout to Bangkok for being the best shopping city in Asia. I know, i know. How does one cycle in a skirt? This was a flouncy one though, so it all kind of worked out, thank goodness.
It's a pity i didn't get a proper shot of my satchel- so casually flopped into the front basket of the bike. For some reason I was extremely amused that the girl bikes for rent were all blue and the boy bikes were all orange. Is there some kind of statement being made here or am i just being a literature major again? Whatevz. All photos in this post shot with the Sony NEX 6 on the SEL20F28 pancake lens, crazy crazy convenient to bring out, I'd never have bothered bringing the DSLR out on a cycling trip. Almost completely won over by prosumer-type cameras for day-to-day use, the only exception being phototrips specifically for shooting. Thank you Sony Singapore x Waggener Edstrom xx
We met Drea and Cindy after that for dinner and dessert at the always amazing Thai Pan and Udders, anywhere with an egg omelette wins hands down in my book.
I was originally supposed to go for the Social Stars Concert that night, but after the previous day of screaming nonstop I ditched it for this, and boy oh boy am I so glad i did. I passed my ticket on to Ernest who apparently enjoyed it incredibly, so that worked out too- what a series of good days, can we have more public holidays please. Happy belated Vesak day to all!
xx
On another note- other speedy things I've been doing: a Ogilvy x Singtel 4G collaboration, and I recently took a ride on their singtel red van with a couple of other bloggers around town to test out the 4G speeds. I know, i know. Never get into a car with strangers and all that. But I've been essentially conversing creepily with strangers online for years now via this blog, and obviously i'm not going to say no to a airconditioned ride in that shade of red, so.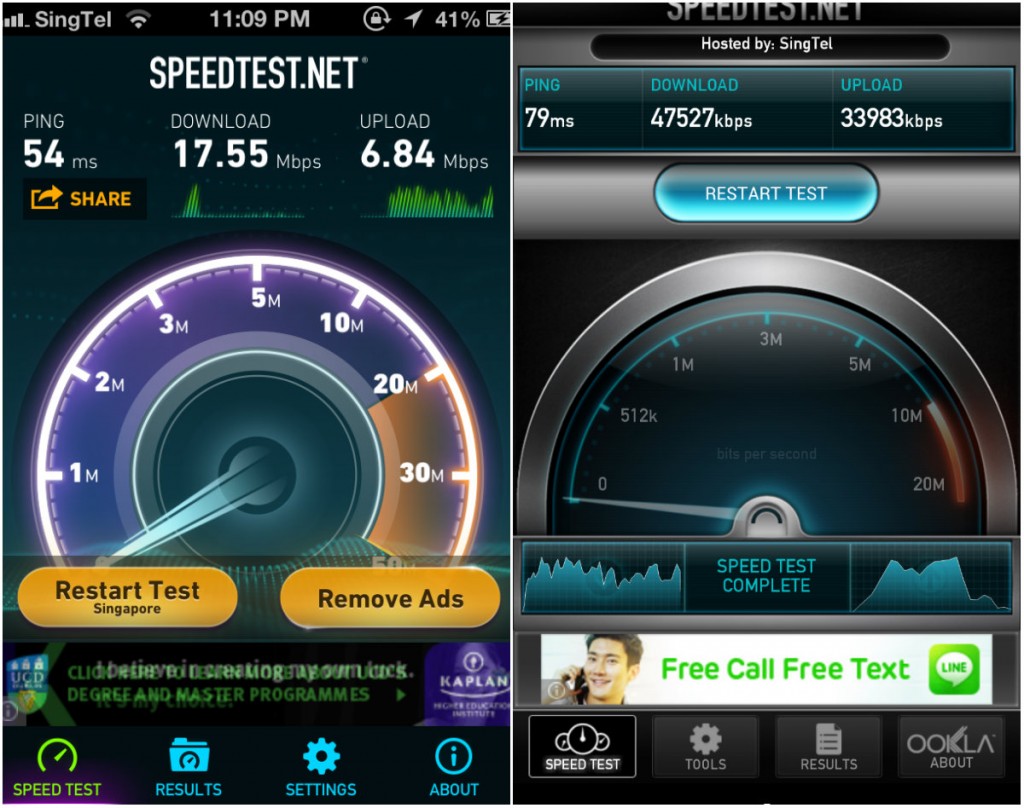 No prizes for guessing which one is for the 3G and 4G. Right, i better clarify it anyway. On the left you see 3G upload/download speeds off my iphone, and on the right you get the speedy rates of the wonderful, wonderful 4G network on the HTC One. When holding the HTC I honestly dont bother tweeting, checking facebook or uploading pictures to instagram via the iphone anymore by pure virtue of the fact that 1. it's just so much faster on 4G and 2. the HTC camera is to die for.
The Singtel people also cheerfully informed me that they've completed 90% of their network upgrade to provide accelerated network speeds, which I only believe because I've seen for myself friends using the 4G network on other mobile providers only to have it much more shaky. I'm not sure if this is an iphone issue or a network one, but on the HTC I rarely lose my 4G signal, and even when i do it's still pretty damn speedy.
The one issue I have with the 4G network is the new data cap of 2GB, because I'm a crazy heavy user and I use about three gig or more of data per month over several devices (because I subscribe to multisim). If you want the insanely fast 4G and are a heavy data user like me, I suggest you reserve all the activities with higher data consumption to when you have wifi access, like downloading apps and so on. Shouldn't be an issue since there's wifi basically everywhere, so just be a little more conscious of the wifi thing if you're thinking of switching to 4g.
Right, so that's about it for now. Hope you guys had a fab weekend, probably spent spamming photos on instagram. x
x
♥jem