Ever since my last ASOS giveaway, i've been receiving emails and tweets from you guys asking if i could hold another one- well no, I can't, because my giveaways really are dependent on the companies I'm collaborating with, but they can. When inSing.Clozette contacted me regarding their new ASOS Share and Win campaign, I looked at their email and thought, hey, what do you know. Looks like another giveaway is in the works after all.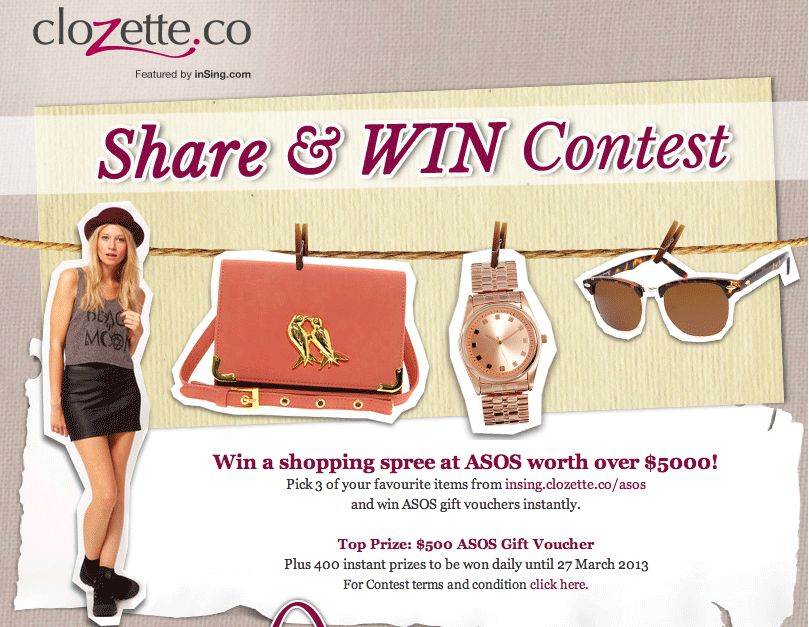 inSing.Clozette's latest campaign essentially is just about picking out items you like, sticking them in your e-cart, and wishing you had money to buy them. Much like my entire life story. It really is my kind of thing (and yours, i trust), because window shopping is something i often do, both on and offline. The only difference is, you actually stand a chance to win quite the shopping haul this time by just doing this:
(i) Pick 3 of your favourite items from insing.clozette.co/asos and share it to win ASOS Vouchers.
(ii) Complete the "inSing.Clozette – Share & Win" form with your email address and your full name and click on the "Try to Win" button.
And bam you stand to win a $500 ASOS voucher and/or over 400 instant prizes daily. I tried it out myself and these are a few of the items i picked out: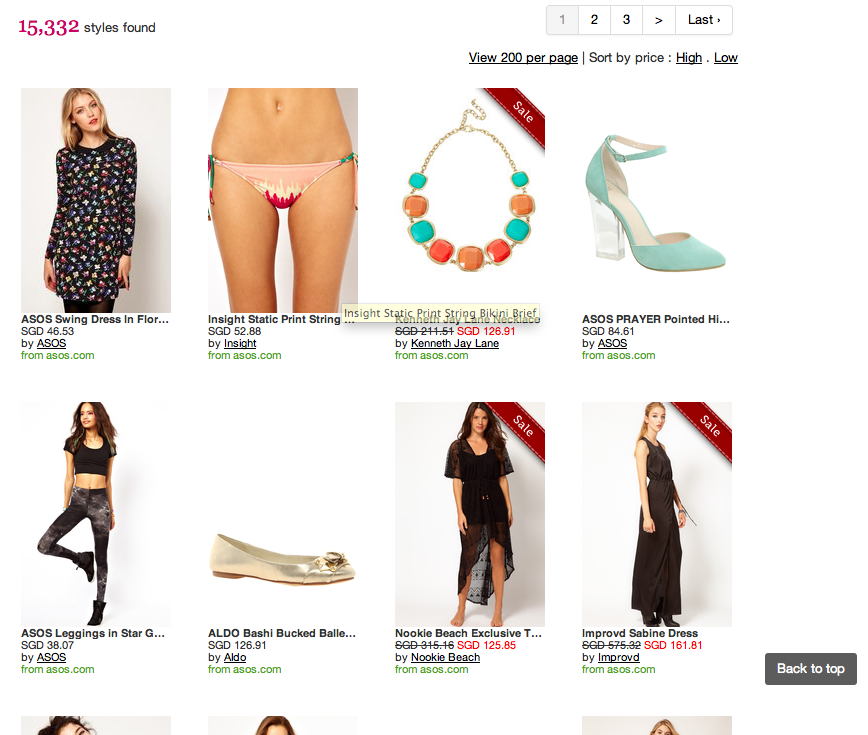 The landing page, where you can filter your search via price.
Usually i filter it via low to high because i am but a broke college student but since this is one of those Stand To Win things i'm just like, hm, nah. I hope i win a two thousand dollar bag. And etcetera.
First pick: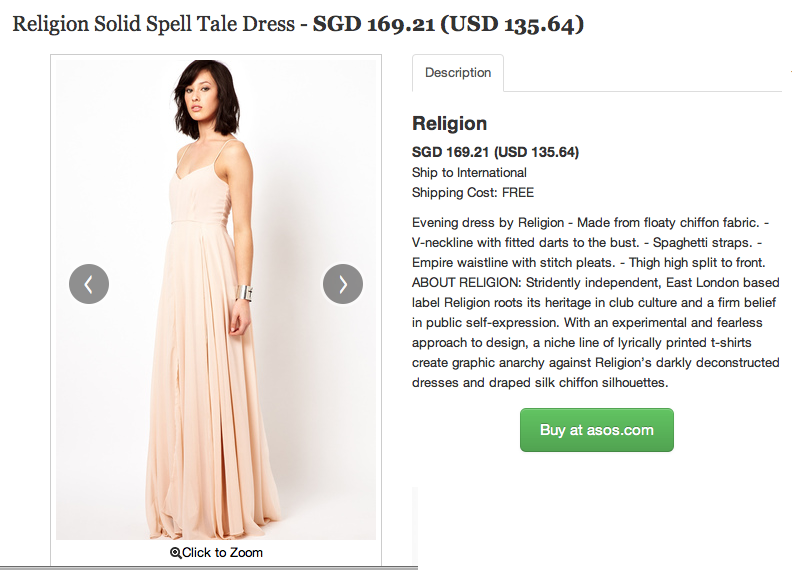 Long drapey maxi dress, how gorgeous is this you guys. I know it says evening dress but no i would wear it everywhere to class to school to church to events and to sleep. Just because.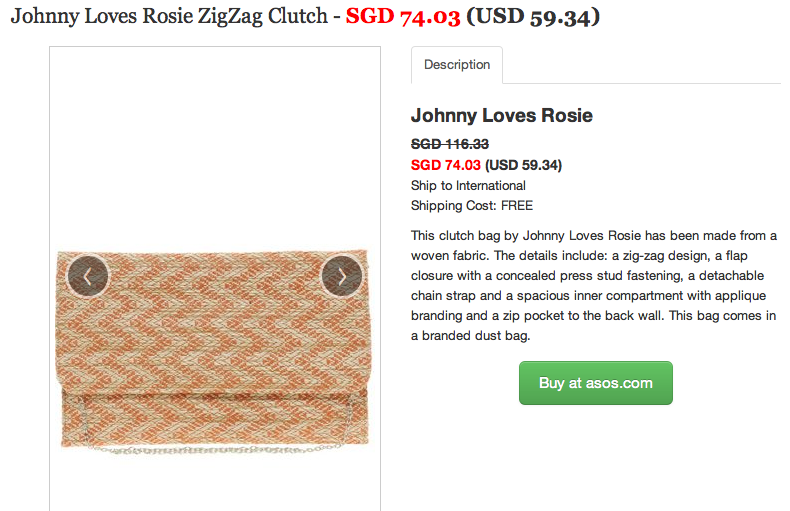 Woven clutch – i've been looking for something like this for the longest time just so i can take a photo of it and Walden the crap out of that photo. Because come on guys, how dreamy would this look with that filter on Instagram? Either Walden or Valencia, i haven't really decided.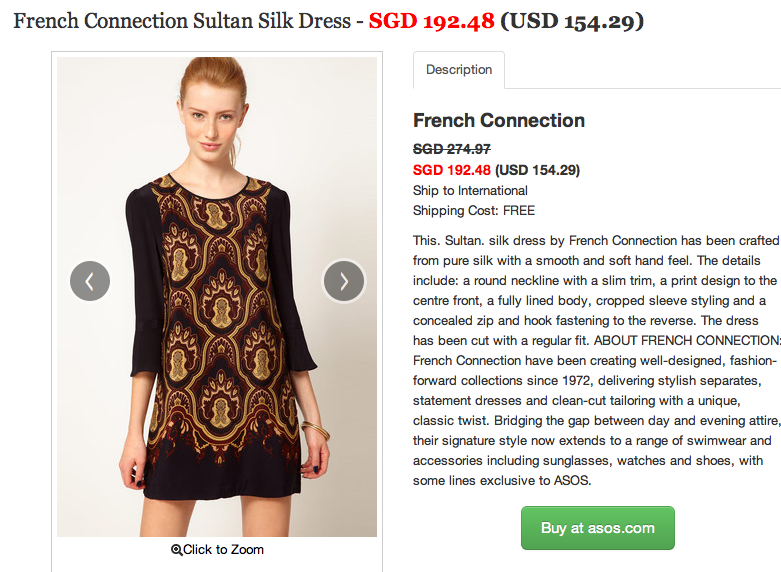 Because this looks really comfortable, also, prints.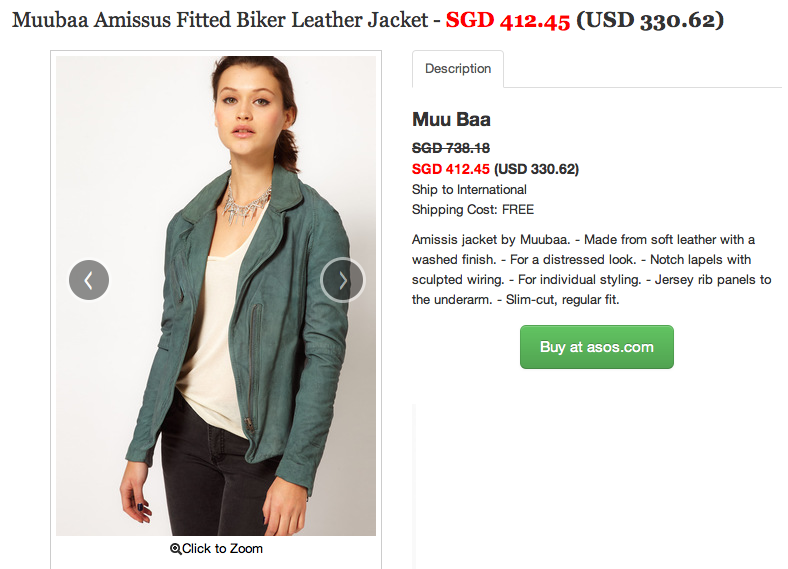 I actually really like this. It'd be another one of those things i'd wear everywhere. I'd call it Muu Baa like it's original product name and it would be like my best friend and everything.
I don't know why im still so obsessed by quilts even when the season for it is ended/ rapidly ending but i kind of just want to faceplant into every quilted item i see. There was once i buried my face in the arm of a quilted leather jacket instinctively for five whole seconds before realizing that the arm was attached to an actual human hand. Now that was an awkward situation.
And lastly: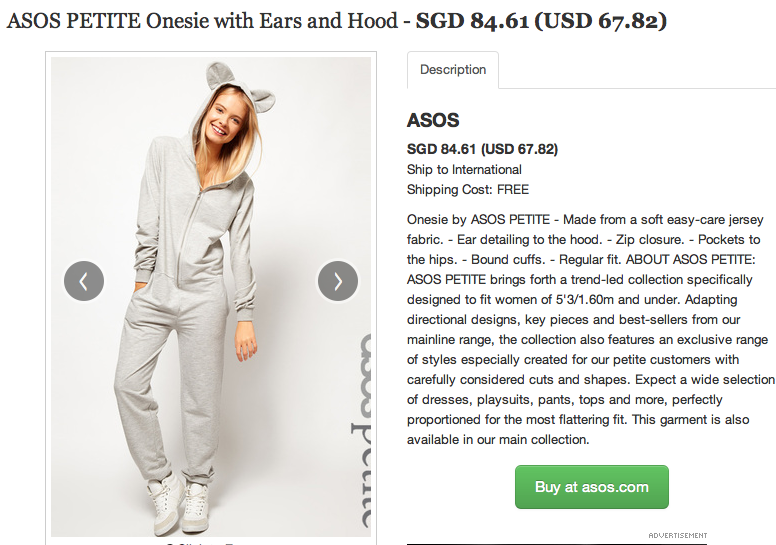 JUST BECAUSE WHO COULD RESIST THIS? NOT I. The idea of being a mouse when you sleep and seeing your roommate's reaction when they wake up. I presume these are pajamas. If they aren't, even better. I'd wear them to the pantry and greet my neighbors while cooking indomie and pretend nothing was out of the ordinary. They would be just so confused. I almost said i'd wear them to school but i don't want to commit to something i dont quite have the balls to do just yet…
The only issue i have is the limit on the term favorites because how do you pick three out of over 15,000 items? Such a first world problem but i did come up with a solution: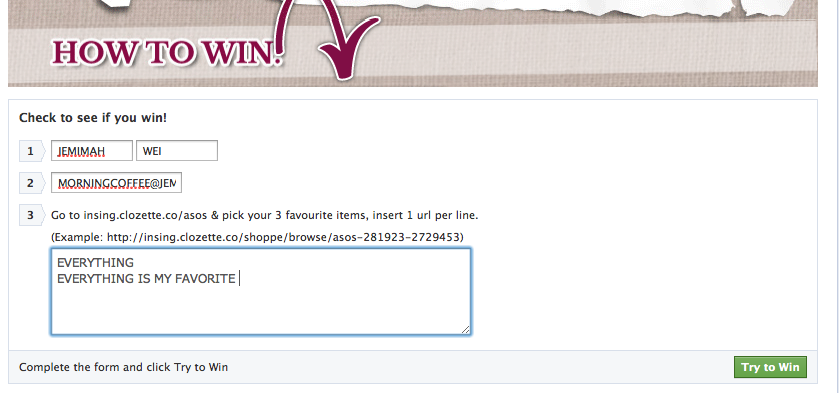 Not suggested don't blame me if you get disqualified ok.
On a more serious note though. The contest is open to anyone and everyone as long as you have, well, a facebook account. You can try again if you havent won anything so technically you can just keep trying till the end of the contest, which is in approximately two weeks. It's a fantastic prize really if you do win, and im especially excited for those of you who have been writing in to me to request another giveaway. I'm not picking any winners here since the contest is run on Clozette's own platform but with 400 prizes to be won per day even if you don't get the 500 bucks i do think you'd stand a pretty high chance of getting something cool anyway. Here's the contest url, go forth and shop my brethren. Good luck!
You are welcome.
x
♥jem