This is essentially a video post you guys.
Cindy and I hosted the IH Cheerleading Competition last night which basically meant we 1. spent eight hours staring at hot cheerleaders (rehearsals started 1:30pm) 2. shouted a lot 3. have no voice now. Just as well, since I don't need a voice to type. Here's the video of the winning hall – Hall 10's Alice in Wonderland themed cheer team – gorgeous storyboarding, beautiful props, stunning flips. Very, very nice. Congratulations to all the winning halls, this sounds so cliche but everyone was so fantastic. You can watch the rest of the videos at Cepheus' youtube channel here.
Ooh another thing and I am extremely excited about this- Drea and I shot our first overseas episode for That F Word and part one went on air yesterday! We go to Bangkok in this episode and the secret is out: I cannot bargain to save my life.
So to all the people who have been asking me about where to go in BKK, the video explains it better in under eight minutes than i could in five paragraphs! Another place i definitely recommend is the Yunomori Onsen and Spa, except we didn't film it down because it had nothing to do with shopping. TAKE A CAB because we took the BTS (MRT) and got so lost we ended up taking a motorbike and i was so sure i was going to die or something. It's this spa building where you can either pay for entry to a Japanese Onsen (hot spring) or do the most amazing massage of your life. Drea and I did the aromatherapy 120 minute massage (i think) and it was 800 baht. Pricier than normal BKK establishments but so much cheaper and better than whatever you'd get in Singapore! PLEASE VISIT THIS PLACE IF YOU ARE IN BANGKOK YOU WILL NOT REGRET IT.
Part II BKK is coming out in approximately two weeks i think, so if anyone is headed to bangkok soon, watch out for it!
Screenwriting class this week and the theme was short feature films. I just realized that i've not done a videos of the week post for quite some time so here goes. Some of my favorites:
INSiDE- mind-blowing, i really liked this one.
DOODLEBUG- one of Christopher Nolan's early works. Another concept feature film. Shot entirely on black and white film, it's a psychological thriller made in 1997. It's pretty good, although you can probably see the twist coming before it actually happens.
WHAT DO WE HAVE IN OUR POCKETS? From the Sundance 2013 film festival. Cute- but i mainly loved it because i've got a bit of a weakness for stop motion films. One of those quirky love stories much like the disney Paperman feature that's currently making it's rounds on facebook.
Pockets from DANIELS on Vimeo.
And lastly- POCKETS. Another take on pockets, but from an absurdist comedic point of view. This was hilarious and so exaggerated. I loved it.
See, told you this was a video post. I know a lot of you are too lazy to click on the videos but if you do- I sincerely hope you'll love them as much as I do! Here's one photo of other things going on in my life: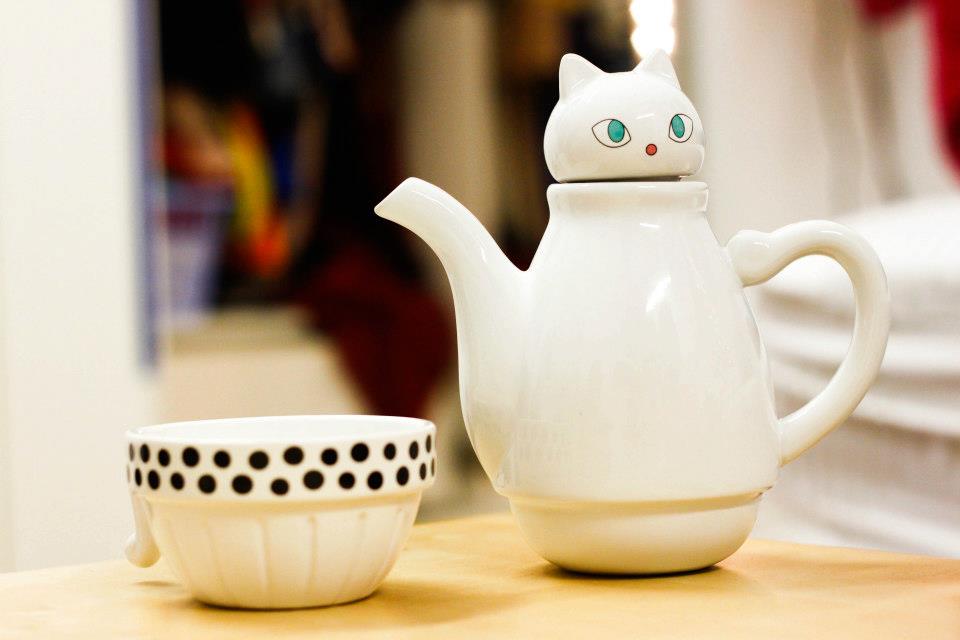 My newest hall room addition: THE CAT POT. Makes the best tea simply because it's tea from a cat. In other news the Cat has replaced the Iron in the latest monopoly overhaul, best news all week. Almost but not quite topping this: Man dressing up as Facebook users and sending them friend requests. I laughed so hard i fell off my chair in class thanks Lara.
OK i know I promised a $300 ASOS giveaway by the end of the week, and it is going to happen, check back tomorrow night and i will have it up i promise. I've even written the post it's just waiting to go up now so meanwhile you can try to win yourself a Playboy VIP Fragrances set or an iPad Mini. We good? We good. Okay keep safe you guys and keep off heels- I'm not kidding, with the recent stormin skies and accompanying slippery roads, even I am padding around on ground level with flats.
x
♥jem