In a quiet corner tucked behind a bustling street near the bangkok, thailand palace, we met a friendly thai couple with their friendly thai couple puppies. Now, I'm not a dog person so i have no idea what breed they were- i'm sure they tried telling us, but there's only that far hand gestures and clumsy sign language will go. There is just something, though, about the thai hospitality that's genuinely touching: the way they don't mind you caressing their pets, smiling toothily for photos, trying desperately to communicate past the language barrier with their eyes and hands. There's a certain kind of curiosity only visible in certain lights, a kind that burns with the desire to know what life outside your own is like, reaching out from both ends yet always falling slightly short. After awhile you learn that compromise isn't always a terrible thing, and that there's a type of beauty in inability, taking comfort in and being okay with not understanding another. And although you're just a tourist lusting after a new wardrobe and pad thai, the curious kindness they regard you with make you feel the slightest bit as though you need a bit more.
This is most shamefully late, but then again, so am i. If you're one of my older blog readers you'll know that i tend to segregate my travel posts into periodic narratives, and for my september/october bangkok trip i've divided them into morning, afternoon, night posts. The morning one's up here, and i've also previously jotted a short encounter with a tuktuk driver. I'm making another trip to bangkok again soon with Andrea, so it occurred to me that i'd better clear my remaining two posts on bangkok before the next one so they don't blur into one another; i'm back today with the afternoon lookbook.
Like i mentioned earlier, we took a tuk tuk out to the palace- it helped a bit, balancing out the periods of intense shopping with a bit of sightseeing and strolling up and down immersed in colors. Being on the fringe of the city was interesting- some people tried to con us, some people let us make friends with their puppies. There are roadside stalls lined up and down hawking handmade leather goods like laptop and ipad cases, canvas bags, for much cheaper than whatever we saw in platinum. It's really a hit and miss with roadside pop up stores like these though, so don't bet on it.
You can't enter the palace grounds if your legs or arms are exposed- you'll have to rent outerwear/pants/wrap skirts from vendors outside the gates. It explains why we're all so colorful and why han is sulking. On one hand, it makes for gorgeous color photos and i appreciate the quiet respectfulness it pays royal and therefore sacred (?) grounds, on the other hand i was thinking doesn't anyone else realize what an oven this place is? I am not kidding because boy was bangkok burnin up. But when in rome do as romans do and all that, so we assembled in traditional garb without much protest.
Oh yes and another thing worth mentioning- the food court at the top level of platinum mall is insane. It's got such amazing pad thai you will just die and never visit thai express back in singapore again. Observe:
Seriously it was so good lexy was just crying. You cant make this shit up.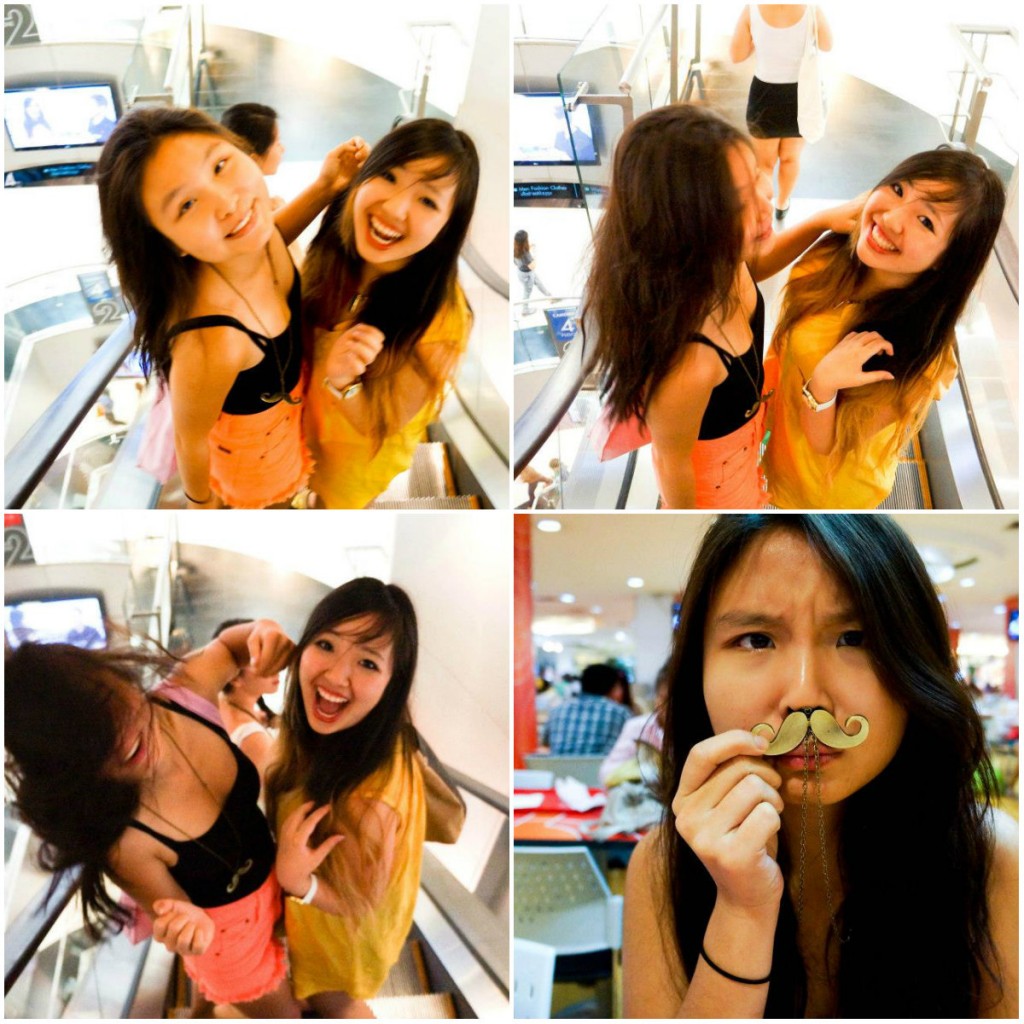 Acting like embarrassing tourists on the escalator.
And at the end of the day we were so tired that we were flopped on the floor with no regard for public judgement, and we (ok fine, just me) fell asleep promptly. All this documented by the gorgeous Sony Nex f3 in pink, which took all the photos in this post- thank you Sony for your generosity!
The bangkok night's post will be up soon, promise.
x
♥jem