So a couple of weeks ago, you guys asked me a bunch of questions on the Carlo Rino Style Guru app, so I'm here picking a few to answer! For those of you who don't quite know yet, Andrea, Joyce and I are doing this collaboration with Carlo Rino where we're featured as their resident style gurus till december and answer questions from you guys. Each month, the person who asks the best question wins a bag from CR so.. ask away.
Anyway, here are five questions i picked that i was thinking might apply to my own demographic of readers on a larger scale.
1. From Anaeika Sumuri
Hi.! Before the questions, let me tell you about my situation. I am currently a student in a polytechnic and i feel that i should dress up more looking at other students who is fashionable to me. But sadly, i have limited amount of nice clothes and a whole lot of T-shirts. I am not a daredevil for fashion meaning i dont like "crazy" styles. So can you tell me how can i look fashionable with just wearing T-shirts.? Also what kind of bag is suitable for the style.? I always wear backbags to school by the way and i myself find it boring. Thank You.!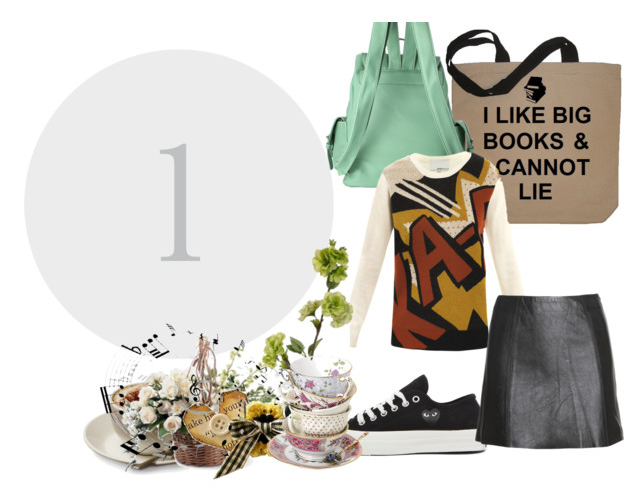 I picked this question because 1. im still studying too, 2. i've been thinking about t-shirts for a long time now and 3. thought it might apply to a lot of my readers out there.
Assuming we're working from the base of a casual top- it can be a T-shirt or sweater or tank top even (picked the long sleeved graphic printed one in the middle because it was so colorful haha), i'd say go for a basic leather skirt. The contrast of texture from cotton to leather is interesting, and it's a nice change from the usual t-shirt x denim or cotton skirt combi. I put in the sneakers because everyone has been complaining that heels aren't suitable for school, despite what i might say. Lastly, this combination works with a backpack i should think, but if you're bored of them, you might want to think about canvas bags which shouldn't set you back by too much on a student's budget!
2. From Josephine Foong
Is it possible to have a bag so versatile that it can be used almost daily for work and normal activities yet is fashionable at the same time?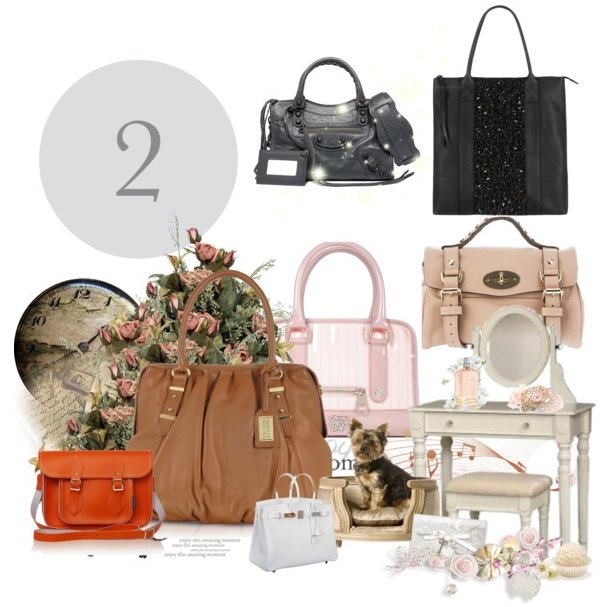 I've always believed that a girl has to have two bags. Ok, not just two. But you know, if we're talking about the absolute necessities here, then you've got to have two very basic bags- one basic one that looks good yet is roomy enough to hold everything, and one in a color pop or quirky style that's for dressy occasions. When i was in the office daily, I was consistently faced with the same dilemma Josephine is in- in media, you often have to attend events after work and you need something that can bring you from day to night. My to-go bag is one that passes the shoulder-elbow test: one that looks good both slung over your shoulder and dangling from the crook of your arm. I think any bag like the ones i've listed above would work, and currently this is my favorite: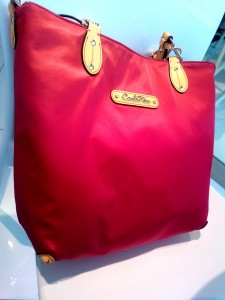 Carlo Rino couriered it over a week ago, and it's so lovely! It looks formal enough because it's made of this silky material, yet the color pop of red and yellow makes it stand out. It's also pretty spacious and i can fit my ipad, make up pouch, notebooks, wallets, and camera in it.

3. For JingTing Hong
Hi Jemimah! 🙂 If i am going to spend my afternoon at Garden by the Bay and go for a dinner and dance function thereafter at night, what type of outfit and bag do you think is suitable for this particular day that involve 2 activites ?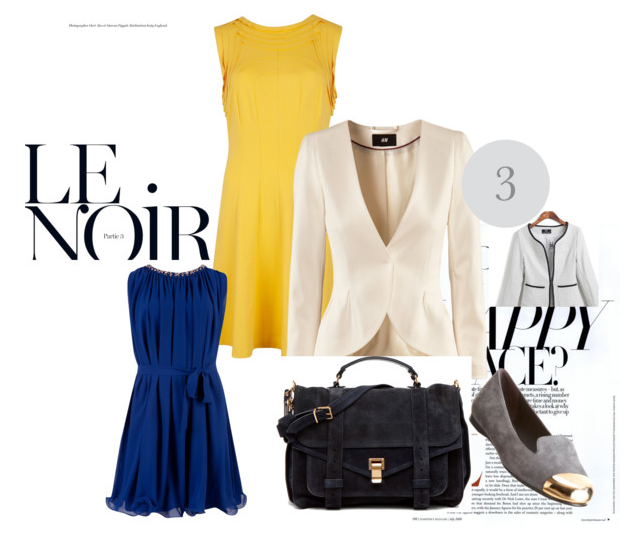 Picked this question because it's completely out of my comfort zone. Im not a fan of gardens in general, and i went to gardens at the bay once and hated it cause it was so hot!
Okay so you don't want to perspire too much when you're at the gardens, so go with a dress that's floaty enough for your skin to breathe through. My immediate pick would be the yellow one because it looks sunny enough for a day out and the way it's cut looks comfortable- skimming the curves and leaving off on sleeves. Besides, I'm going to assume a gazillion photos will be taken at Gardens – the color will really stand out in photos! Go with the blue if you're not comfortable with such a bright yellow, although the material does seem slightly more formal. Carry a blazer or structured jacket in your hands to pull together your d&d look, it adds to the lines in your outfit. I love the capped toe shoe so much because it just looks so clean and pretty, go with either the flat or heeled version depending on what you're comfortable with.
As for your bag, get something that can store your camera (assuming you have a prosumer/compact because DSLRs are too bulky for d&ds anyway) and maybe a water bottle because MY WORD the gardens are really too hot and will just seep all the water out of you. My picks from Carlo Rino include the following: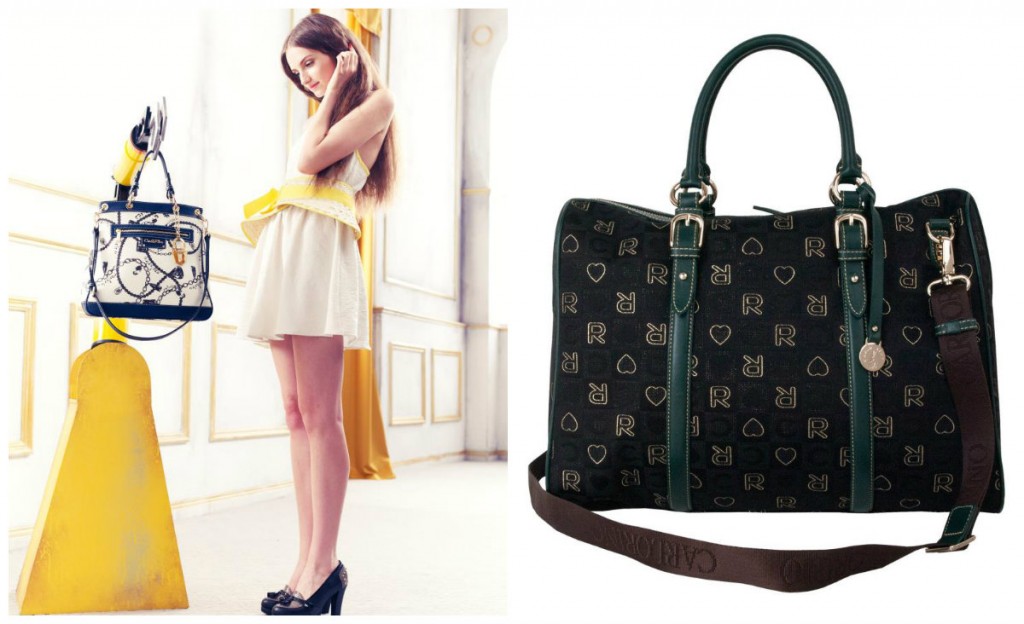 Left: Midnight Dreamy Links
Right: Dainty Ditty No. 6
Both are made out of sturdy enough material- you definitely need something that doesnt look too flimsy or it'll look a bit strange with your blazer.
4. For Sheena Anne-Marie
Hey Jemma 🙂 I have a wardrobe crisis. Everything in my closet is black and dark blue (like EVERYTHING) They sell such pretty colours in clothes stores in styles I'd love to wear but just don't have the guts to do so since I practically live in black! I need your expertise on how I can mix and match and to find a color that suits my skin tone! Thank you! Love your divalicious style 😉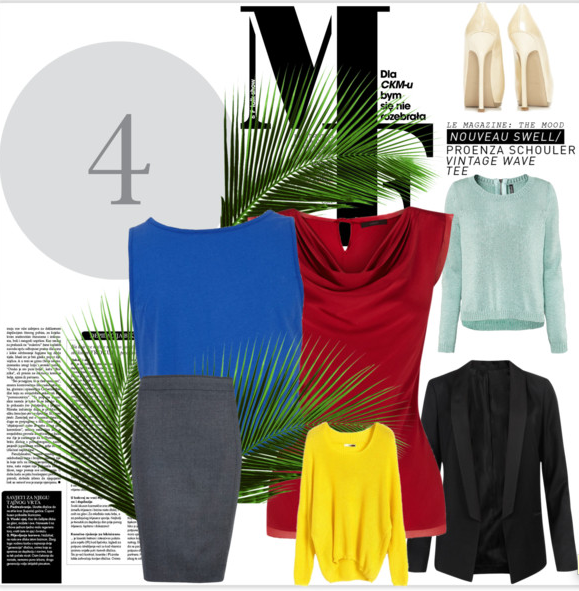 Ok im going to work on the premise that you already have black tops, dresses, skirts, and outerwear since you practically live in black 🙂 In that case, i've found the best way to introduce color in to be through tops. If you keep your black skirt and cardigan/blazer on, you have your top color to play around with. Swop out the black for something in a color pop like red, yellow or electric blue, and if you feel self conscious by the middle of the day you can just throw on the jacket. Visually, you have a spot of bright color surrounded by black, which feels safer than making a sudden switch to, say, red jeans or a yellow dress. Once you feel comfortable with the color, you can start experimenting with different items of clothings with brighter and more varied colors too. (Also, it's a lot easier on the wallet because tops tend to be relatively more inexpensive compared to a dress or pants, which makes it easier for you to convince yourself to try it out in a color you otherwise wouldnt be comfortable with!)
5. For Jade Wong
Any ideas on I can dress with low budget and look classy? =)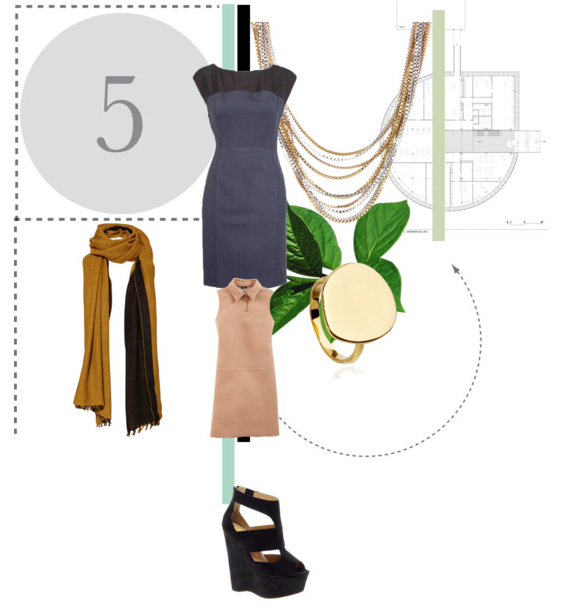 Sometimes i look at all these fashion blogs from overseas and im just like where do you get the money. Budget is always an issue, and i don't get how some people have a new dress from A.Wang or shoes from Celine each post. Usually im just like woohoo check it man i just got a dress from ASOS on sale and it was like thirteen bucks, what, up. In any case, the easiest way to work the budget is to really just have basics (which hopefully wont cost you a bomb) and then work up from there. I know it's unconventional in sunny singapore, but i just love thin scarves. This is my current favorite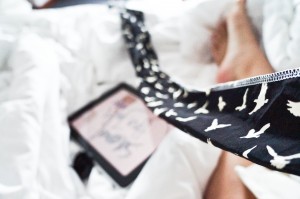 Skinny scarf in navy with swallows flapping up and down. I wear it like i would a necklace or loose tie, just slung around the neck. It's ok if you think im absolutely batty. Necklaces are great too. Get a statement piece, like one with interesting detailing or the layered kind featured above. And i just threw in the ring because i thought it was pretty.
& Shoes can make or break an outfit- which is why no matter how much i skimp on clothes, i'll be (sort of) willing to invest in a really solid pair of heels (although my heart will be crying and i'll mooch around for weeks in guilty depression).
Ok so now we've reached the end of the post- i hope you found them helpful, although they tend to be a bit on the formal side. I'm a bit formal myself, i dont do casual so very well. Anyway, i'm giving away one Carlo Rino wristlet worth $220 to a reader- all you have to do is:
1. Like the CR facebook page (www.facebook.com/carlorinosg)
2. Tweet (and you better be following me!):
hi @jemmawei – i'm _____ (fill it in yourself, give me one word that describes you because i want to know who all these people reading my blog are hahaha) and i want to win a @carlorinoSG wristlet from jemmawei.com!
So it can be something like
Hi @jemmawei – im a heels kinda girl and i want to win a @carlorinoSG wristlet from jemmawei.com!
or
Hi @jemmawei – im SINGAPORE'S NEXT TAYLOR SWIFT and i want to win a @carlorinoSG wristlet from jemmawei.com!
or
Hi @jemmawei – im a guy and i want to win a @carlorinoSG wristlet from jemmawei.com for my girlfriend!
Or, you know. Whatever suits your fancy. The contest will run for about a week and end on Saturday Morning 3rd November! Winners will be randomly drawn and announced online.
You can also ask me more questions here and stand to win a bag from them!
All the best, and thank you Carlo Rino for everything 🙂
x
♥jem