Hey guys
So it was a pretty crazy day for me today. From my waking minute i was off in a meeting with Air Asia Expedia and then rushing down for my appointment at browhaus (which sounds frivolous yes i know but WAIT i have a valid reason, i'm filming on wednesday and i cant afford to have messy brows because 5000 people will flame me overnight and you know it's true), meeting drea for a bit, then settling down for a solid 7 hours to work on my paper due tomorrow because when will i ever learn? No inspiration like that you get from starting an essay the night before it's due.
In any case I got back to hall tonight absolutely starved because all i had the whole day was a brunchner (amalgamation of breakfast lunch and dinner) and I was all set to forlornly drown my hunger in 3 in 1 milo when some cool dancing people sent over a box of CP salmon teriyaki rice for me.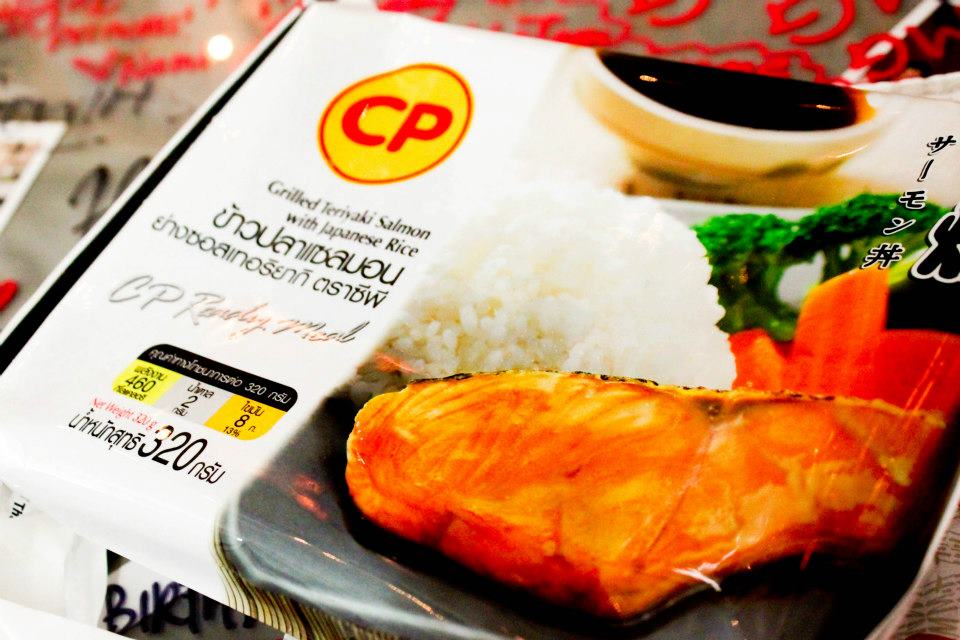 Why are they sending me free food in the middle of the night? Nevermind that, i'll explain later. Check out the wording on the packaging. Grilled salmon teriyaki with japanese rice. Is there anything you'd like to hear more at 1:30am in the morning if you've only had one meal the entire day? The answer is no. There is not.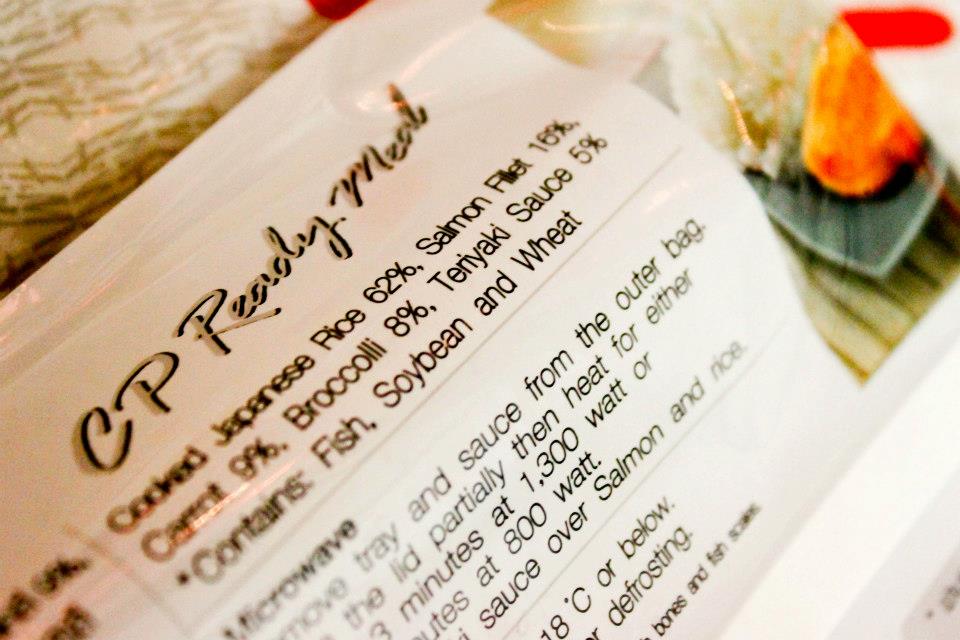 This is essentially a CP Ready Meal, and the name explains it all so i'm not gonna insult your intelligence by explaining how it works. It took about 2.5minutes in the microwave, which is pretty much how long it takes to draw on your eyeliner, so you can essentially pop it in the microwave and change for class and it'll be done by the time you are.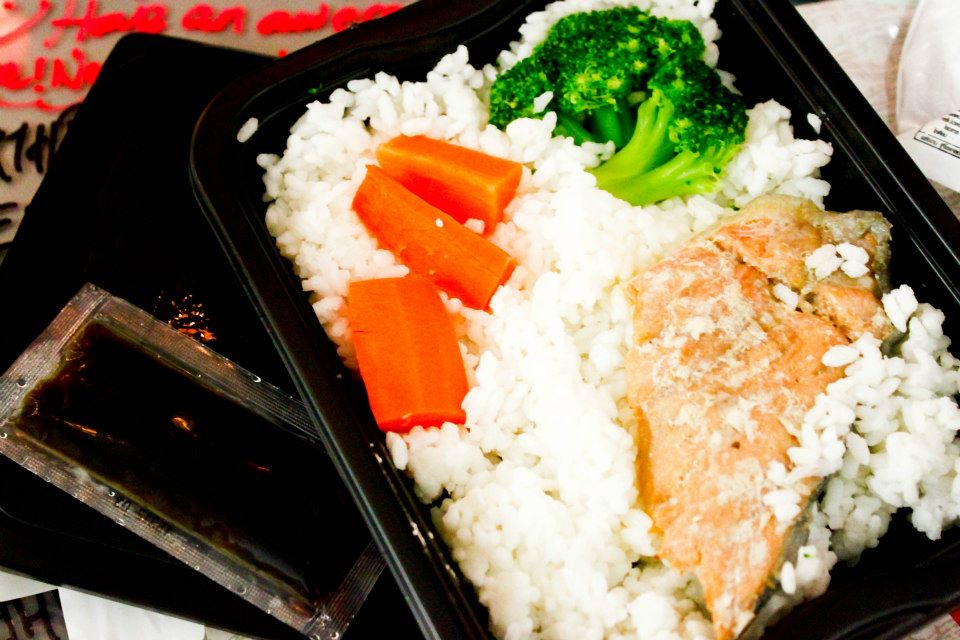 This is what it looks like before it goes in. Also i took a pic of the microwave cos i was bored while waiting for it to cook. Now you all know what i use to heat up my pancakes.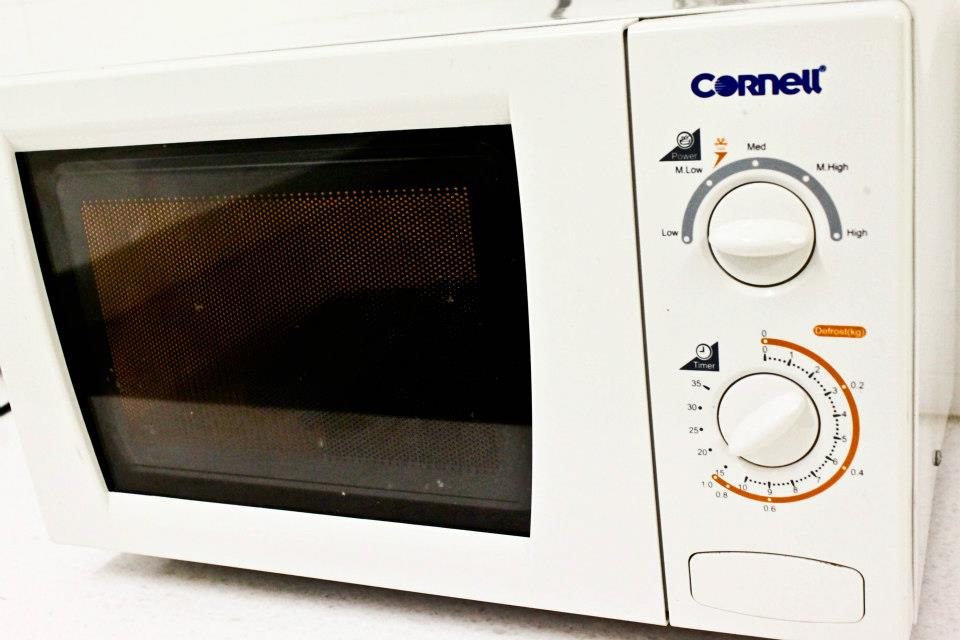 Anyway, most of you already know that i'm accustomed to cooking in hall. I simply dont like going to the canteens too often because im a lazy bum and dont want to walk down, and also if you're a college student chances are you sleep in the day and study all night and NO DECENT CANTEEN is open at night despite the crazy hours students keep. Also, one of my favorite things to cook include salmon, which often gets me responses of either 1. how do you find the time? or 2. BOJIO.
Anyway.
But sometimes cooking gets too troublesome because of washing up and also, takes too long, and fresh fish cant be kept longer than a couple of days so it's not a daily solution to be whipping up salmon everyday. CP Ready Meals are pretty much the perfect solution to all the other lazybums in hall who always tell me they cant be bothered to cook even though they'd love some variety from canteen fare. I read on the back that you can also keep it for quite a awhile if you stick it in the freezer, though i haven't tested it out.
That's what it looks like fresh out of the microwave and this is what it looks like with the accompanying teriyaki sauce mixed in: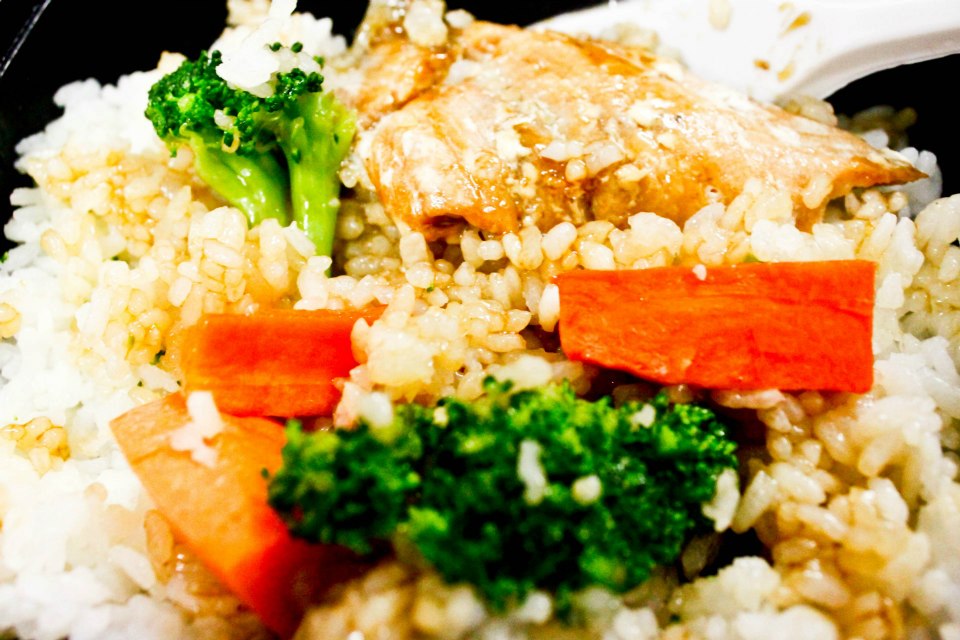 It reminded me a bit of the boxed jap sets you can get from umi sushi and all those little jap bento joints in malls and the mrt stations! Obviously it's not as succulent as fresh salmon but bear in mind convenience and the fact that each slab of marbled salmon fillet i buy from NTUC costs me anywhere from 6-10 dollars. This one costs about $4.70 for a nifty box. Do the math.
Anyway, the point of this post was. If you're in college too you probably already know what i'm about to say, but CP recently launched a competition called the CP Marketing Challenge 2012, catered for business students. It's pretty much a competition which allows the teams to work with a real business model, so business students all over singapore are in a frenzy about it at the moment. I was contacted by one of the teams from Nanyang Business School for a plug on my blog, and while it isn't the usual kind of thing i write for, they kind of had me at the word salmon.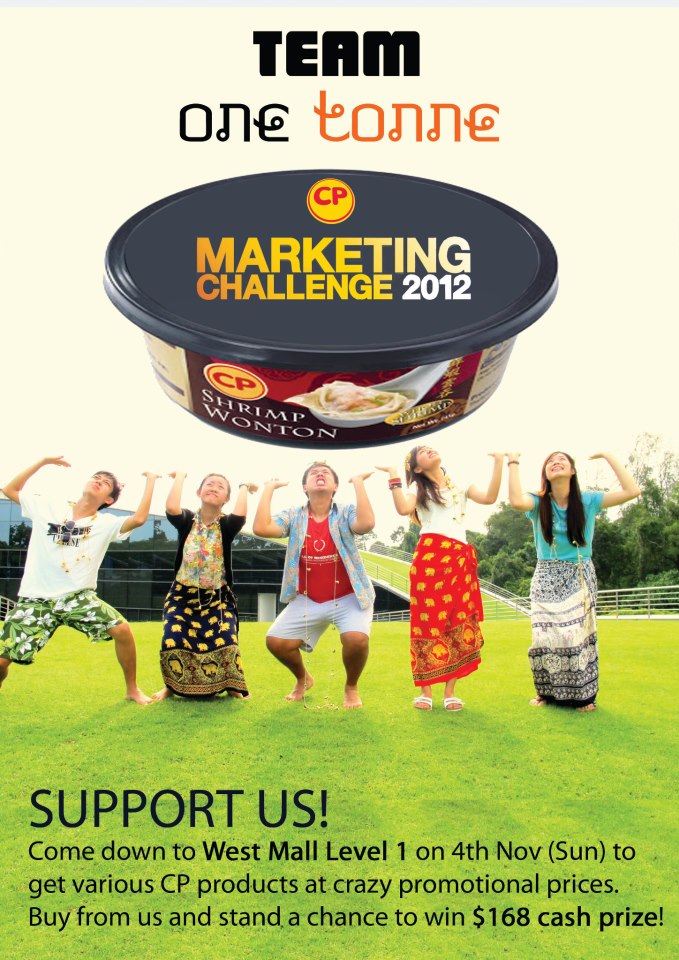 The team's name is One Tonne because it sounds like wanton (lol) – which is one of the best selling products from CP. They initially wanted to send me a bunch of wontons to try but i don't really eat wonton so they sent me salmon instead hahaha. Their team made it to the semi finals and now they're going to be dancing for everyone online to the theme song of CP ads just because-
O.k. just kidding. The video is part of a promotion pushing their upcoming event, a food fair selling CP products at discounted rates. I remember buying CP honey wings or something like that a couple of semesters ago to go with toast which pretty much consisted mealtimes during the crazy exam periods, and it was mad yummy. Here's another poster from them: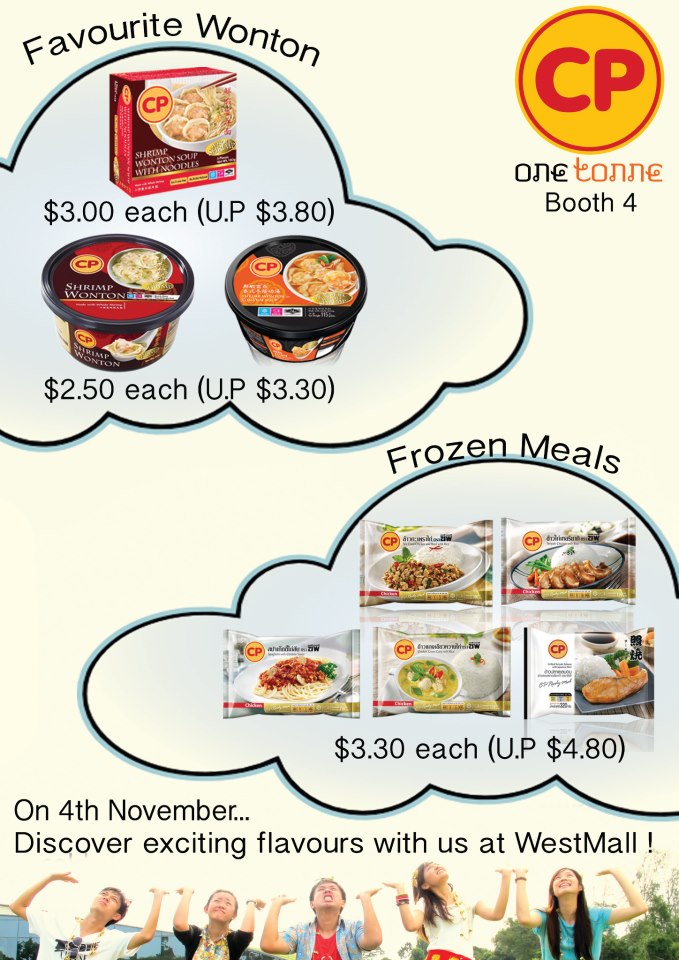 The event is gonna be on the 4th of November 2012 ( Sunday)- Booth 4, at West Mall (Bukit Batok MRT), and they promise that the prices are nothing like what you'll ever get at the supermarkets, so homemakers and students alike, mark down the date! Also they're giving away a $168 cash prize to a buyer for some reason- i tried figuring out if 168 was an auspicious number or something but i still have no clue.
OK that was all i popped in to say today. Consider this your friendly neighbourhood convenience announcement! Happy lunching- and do like their facebook page for more updates here.
x
♥jem