I know, i know. I'd never thought i'd hear myself saying it either, but I'm increasingly taken by the new Fall Holiday 2012 collection from Crocs. Let no one say we don't have an honest relationship, you and i, but I've honestly never been a fan of crocs. The only one's ive ever approved were the kids collection they had- check out these pair of sparkly purple shoes Odelia has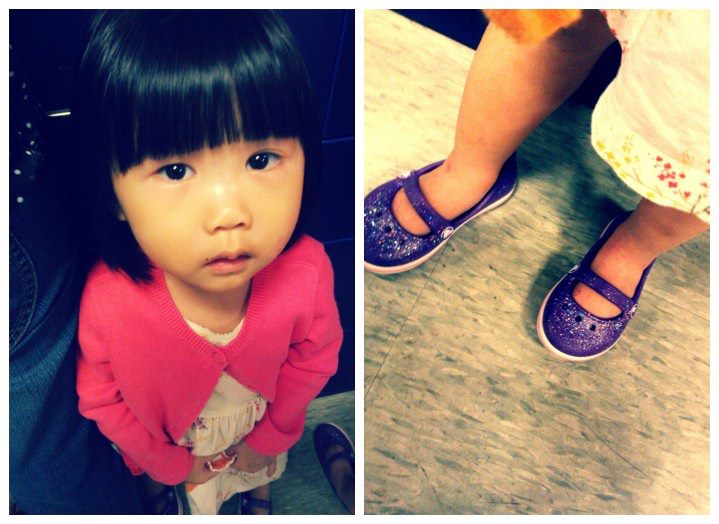 I think she got them in January, though im not too sure.
Anyway, my mum has a pair from the crocs prima ballet flats line which i moderately prefer to the original crocs, but I still disliked them as a whole. Something about flat ground and aligned dots. Noone can deny their comfort level, but i dont quite see why you can't just whack some scholls in soles for heels and be done with it.
So in any case when Crocs emailed me inviting me down to their bloggers party celebrating the crocs fall holiday collection a couple of weeks ago, i told them i couldnt make it because i had prior commitments, which was true– i had our first MMC cohesion that night. Kerri from McGallen & Bolden Pte Ltd (the PR company for Crocs SG) replied almost immediately asking me if i'd still like to come down to their store another day and even offered to courier over a letter which would let me redeem a new pair of crocs from any of their concept stores.
That was the first thing that won me over- i thought it was an incredibly thoughtful gesture, and it reminded me of Sony's personalized and extra-mile relationship with their bloggers. When you find a brand that's willing to come down and visit you at pulau NTU, you know they're The One. Anyway i got their mail and went down to the crocs concept store at Tampines mall (where kiki.k used to be) on Friday on the way home for the weekends.
All photos taken by the windows lumia 800.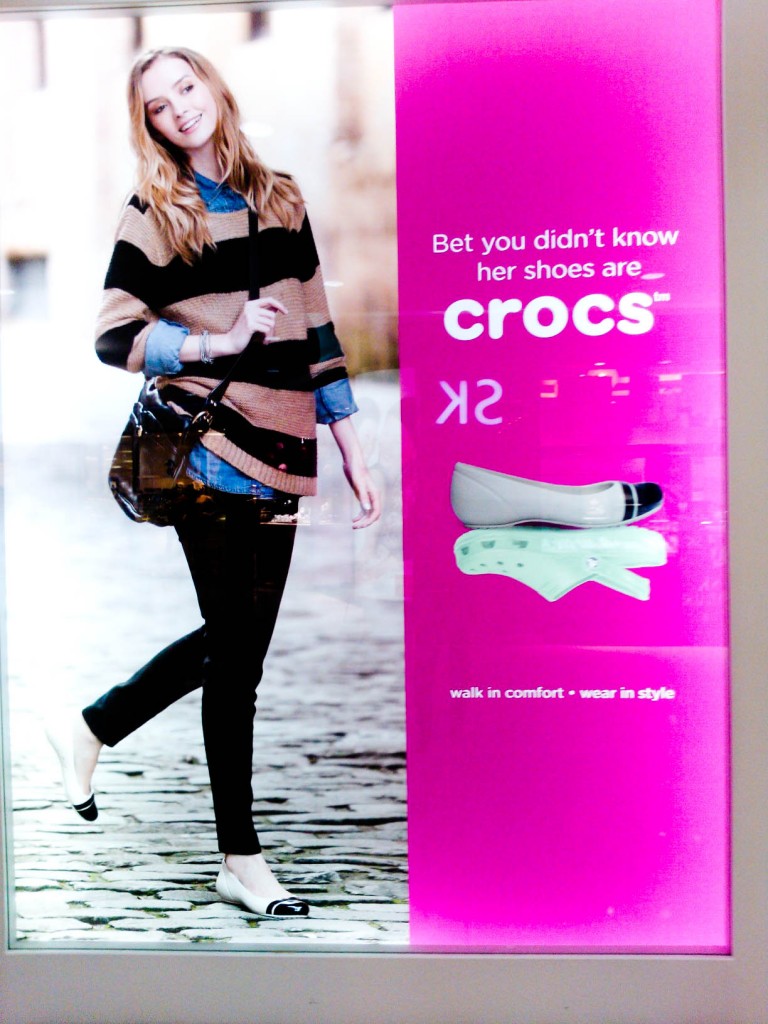 Am i the only one who finds this huge poster at their storefront hilarious? It's so self-reproving and in an ironically amused way, like 'ok we know you ladies may not have liked the first wave of dino crocs, but here are some pretty ones we BETCHA DIDNT KNOW WE HAD". Or maybe not. I found it funny anyway.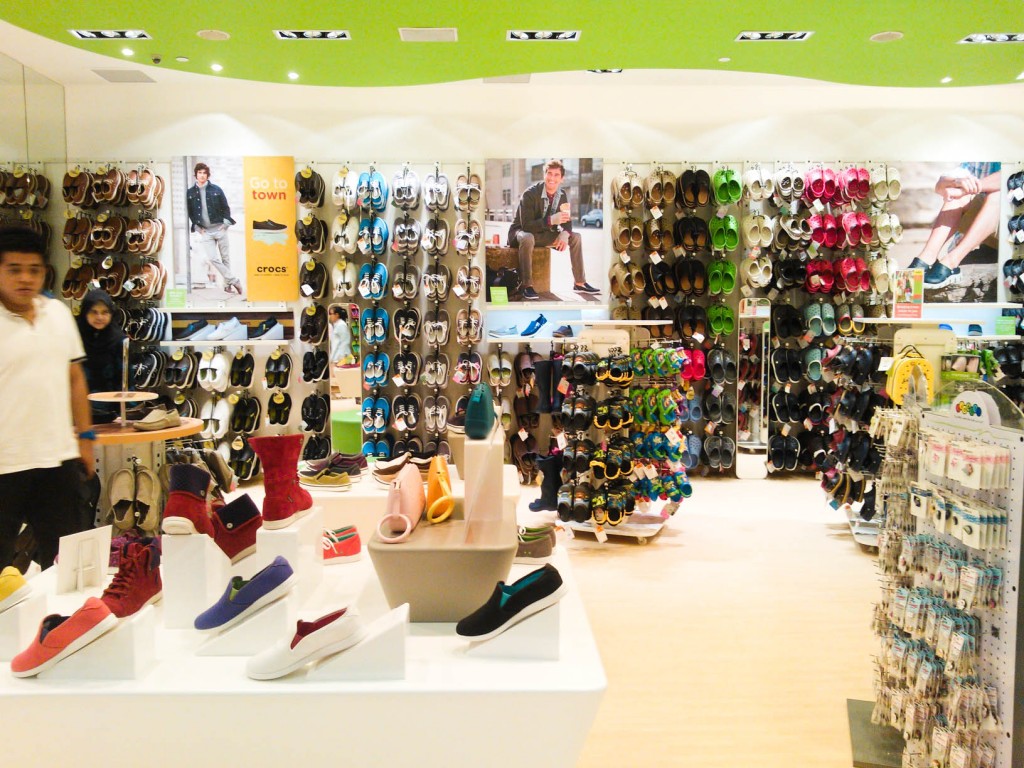 The inside of the store reminds me of a less cluttered version of Payless Shoes, which is good because i dont like being squished up against other people when trying to get a pair of shoes.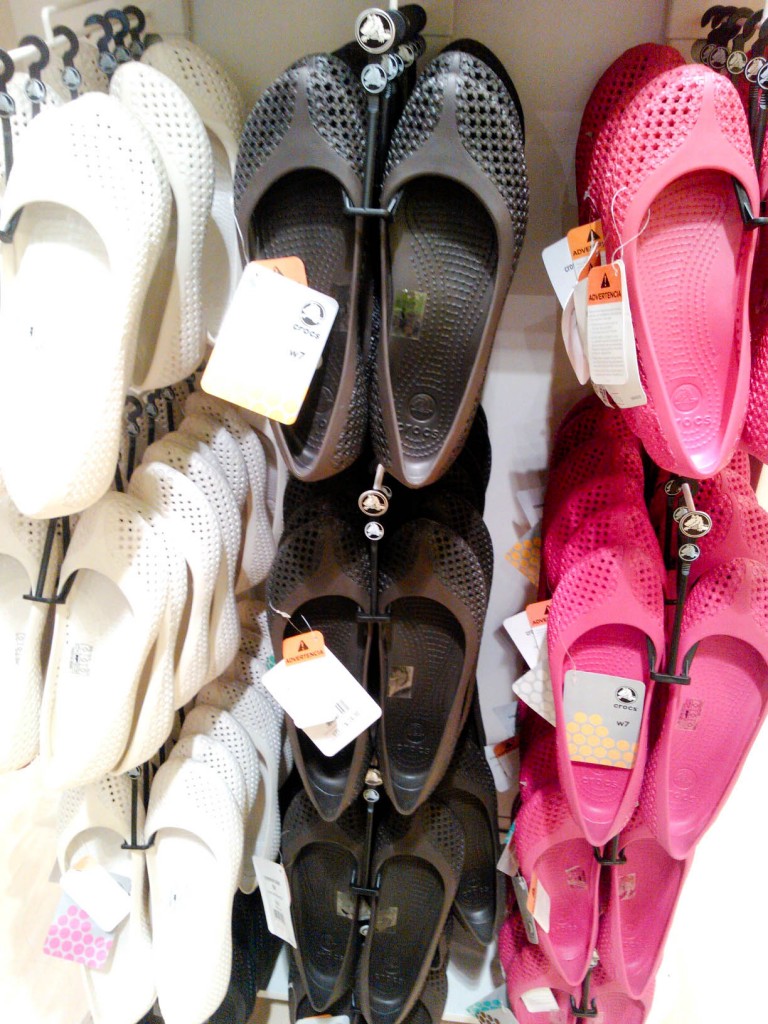 Essentially, Crocs is launching their new rebranding campaign called New Crocs New You, which is honestly pretty self-explanatory. It's also endorsed by TV star Oli Pettigrew, whom i first met at the Backick Singapore launch party. Their FH2012 collection is quite sick for a brand that prides itself on comfort- theyve got sneakers, high cuts, pumps, and wedges, and basically a whole range of new shoes that look nothing like the old crocs collection. Of course, if you still want the classic models they're available instore, but honestly, check out the new ones.
I really liked the bright turquoise sneakers, but i decided against that pair because the chances of me wearing them out often weren't too high. Besides, if im going to get a pair which are supposed to be comfy, im getting heels because by virtue of their nature they're supposed to be uncomfortable and finding a pair of comfy ones are few and far between.
Women/ Men shoes
It came down to these two. I was so severely tempted by the rest of the brightly colored sneakers (but everyone needs sneakers! when was the last time you wore sneakers jemma? um.. freshman orientation camp) but after oogling at the rows and rows of shoes i narrowed the choices down to these gorgeous pink high cuts and a pair of white and black toe capped low wedges:
I KNOW, RIGHT. How to choose? It's simply not possible- it would have been so much easier if they were both heels or sneakers, but they're completely different types of shoes which means i'd be wearing them under different occasions anyway and with different outfits and EVERYONE NEEDS A GOOD PAIR OF HIGH CUTS AND ANOTHER GOOD PAIR OF WEDGES. I was rationalizing it out in my head so intensely that i started muttering to myself and must have scared the salesgirl i think.
Anyway Crocs' own popularity made the choice for me. There were completely no sizes left for the high cuts- the biggest size was a 7, and im an 8 or 8.5. I sat there for a few minutes staring obstinately at the size sevens, but they uncooperatively refused to expand. Oh well. I turned and requested a pair of the wedges in an 8- and they were all out.
I had a completely different dilemma on hand. From being unable to choose from two shoes, now i had none to choose from because they were all out of stock. It's always a good problem for a retailer to have, but i cant pretend i didnt curse the people who bought it before i did.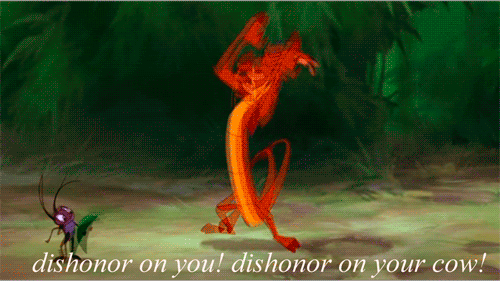 Haiya sorry, i just get very emotional over shoes.
In the end i got a pair of the wedges in a 9. Slightly big, but nothing that cant be remedied by a pair of toe socks. Or three pairs. The point is, i got my shoes!
Andrea calls them the chanel-eque pair- such a classic cut and color, really. They're lower than the normal heels i wear, but im thankful for a new pair since my blue steve madden wedges recently kamikazed on me. Seriously, for such an expensive brand.. they're not very lasting.
Because the new wedges are structured in such a unified way, there doesnt seem to be any risk of the sole detaching from the heel as most wedges are prone to do after extended wear. They're also ridiculously comfy for wedges- according to Kerri, they're made of Croslite™, which is known for its lightweight, anti-microbial, waterproof, and odor resistant properties. It's also kind of springy, which makes it feel a little like you're walking on clouds. Hm. Im particularly intrigued by the bit about being waterproof, because rainy days are hell for me- most of my shoes have little grip and tend to just slip everywhere when it's wet, which is potentially embarrassing. I'm going to wait for a rainy day and jump in a few puddles and let you guys know how it goes ok.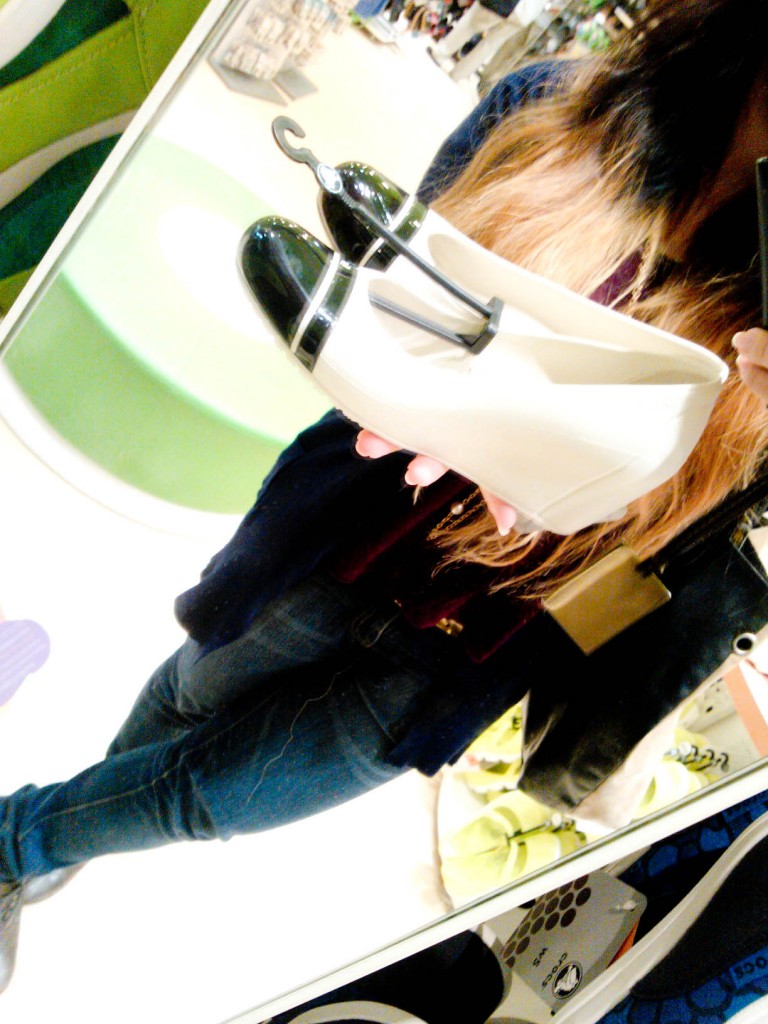 Tehe.
Andrea, who attended the crocs NCNY event, got the strappy black sandals you see below and they've ever since become her official driving shoes because they're just that comfortable.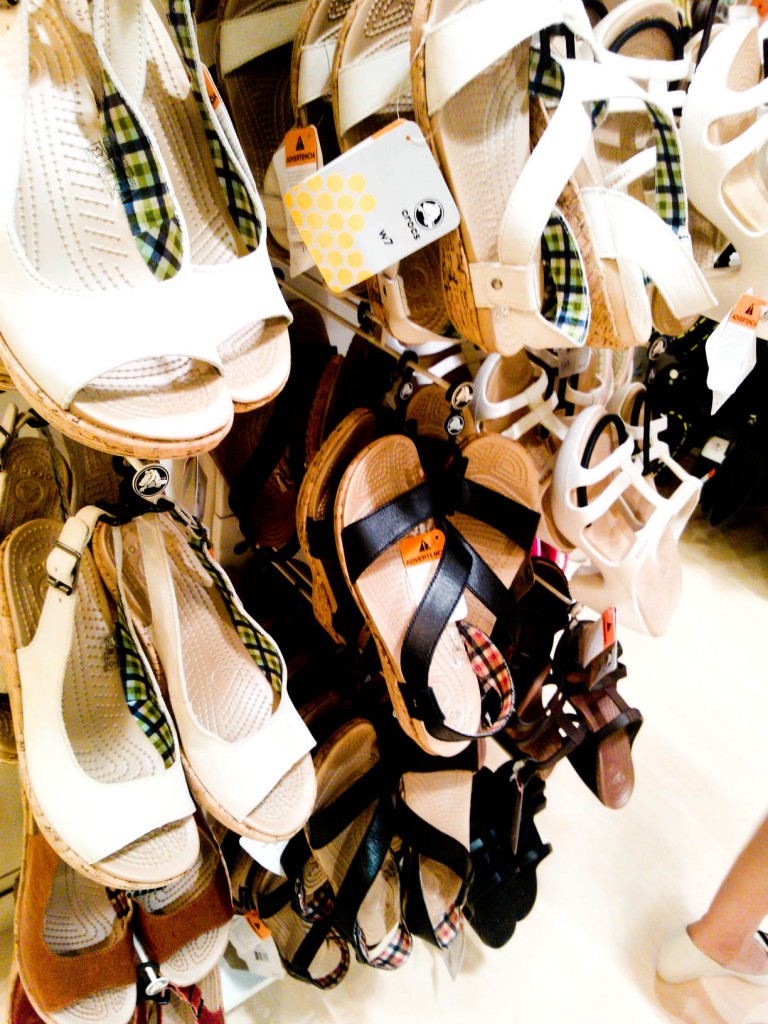 They also have the most adorable backpacks for kids: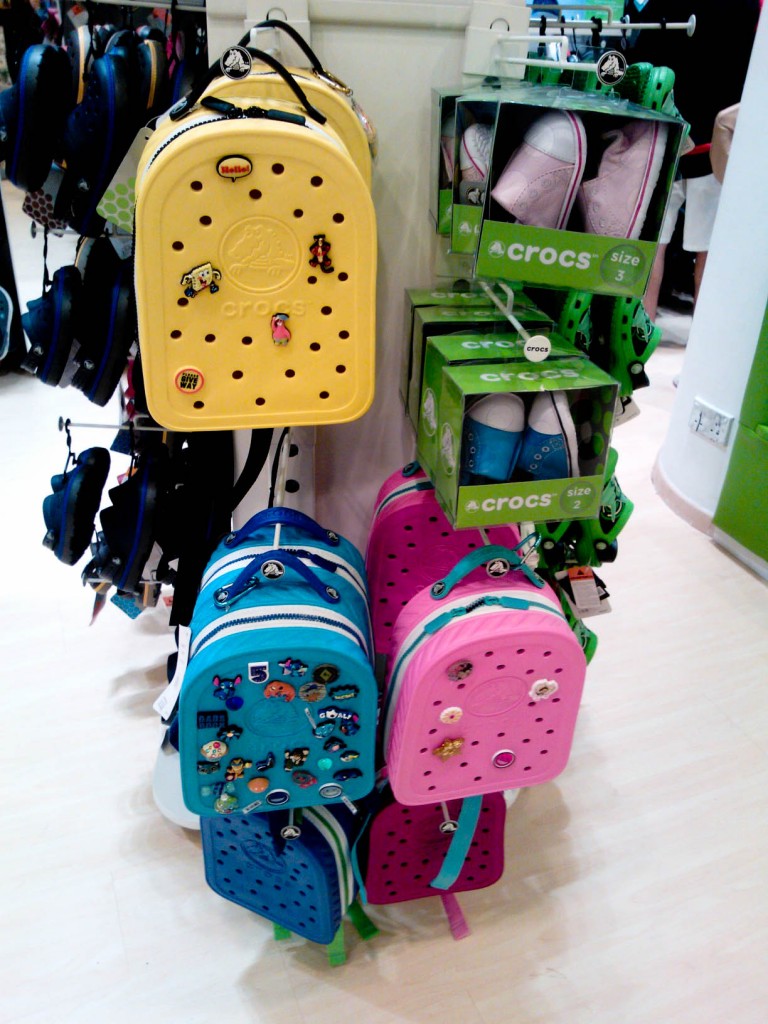 Impressed yet?
Okay so anyway, you'll be wanting to know how you can win a pair for yourself rather than listening to me warble on about them. I have three prizes up for grabs:
a. A pair of Crocs Shoes
b. Also, a pair of Crocs Shoes
c. A $50 Crocs voucher
And all you have to do is tweet me:
"Hi @jemmawei – I want to win a pair of @CrocsSG shoes from jemmawei.com"
Seriously, that's it. You can add on more things at the end but that line has to be in it. Remember to leave a space between @jemmawei and the -, or it'll become @jemmawei- and i wont see it. Also, if your account is private, i cant see it, so remember that!
I'll pick a winner using a random generator after a week, and results will be announced on Sunday night, the 21st.
If you're not on twitter, you can head over to the New Crocs New You page where ten pairs are up for grabs as well as a limo chauffeured stay for two at Capella SG.
Not too bad, huh, for a brand that isn't quite known for style. Kudos to Crocs for their impressive rebranding efforts- the fact that my size is all out of stock speaks for your new wave of popularity more than i ever could.
Thank you for your generosity, Crocs SG x McGallen & Bolden!
x
♥jem