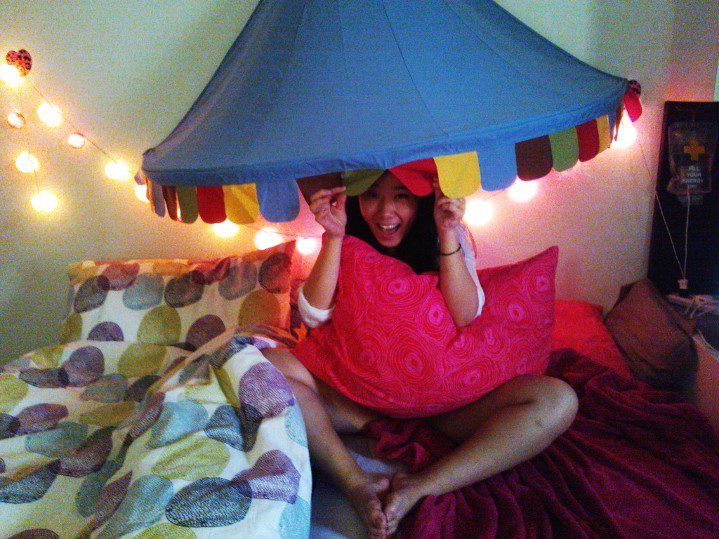 Sometime this afternoon Cindy and I hopped over to Lexy's room and now we have a strong competitor for nicest room award 2012. It was the HSS D&D last night, held at this converted warehouse which of course sounds dodgy until you realize that it was the same place the singapore youtube launch party was thrown- then it's just cool.I would ramble on more about it but it seems more appropriate to do so when i get the photos because there were some there that would make your ovaries explode. What i am saying is, charlie lim performed and there may or may not have been a lot of swooning involved.
& so concludes the first week of sophomore year- summed up in Pretty Awesome. Mods I'm taking this semester include creative writing 101, contemporary literature, film and literature in singapore, history of graphic design, history of animation, and approaches to literature. All my seminars have been and will possibly continue to be fantastic and inspiring at the same time. All i do all day is write myself into swirls of uncertainty which is the best mood because the structure of the confirmed is nothing of fuel. They always say to think outside the box but what if you could divorce the box from the equation completely? That, i think, would be a feat.
Oh, and lastly:
Clothes make you, a newly launched blogshop, is having a Facebook promotion where you like and share their Facebook page for a chance to win some threads.
It seems to make sense to me to do this now because with new blogshops the pool of competitors for competitions like these are less and therefore your chances of getting FREE CLOTHES exponentially increase. I mean, I'm not a math whiz but this much i know.
x
♥jem