Currently listening to:might like friday night by the jane doze
status:sleepy.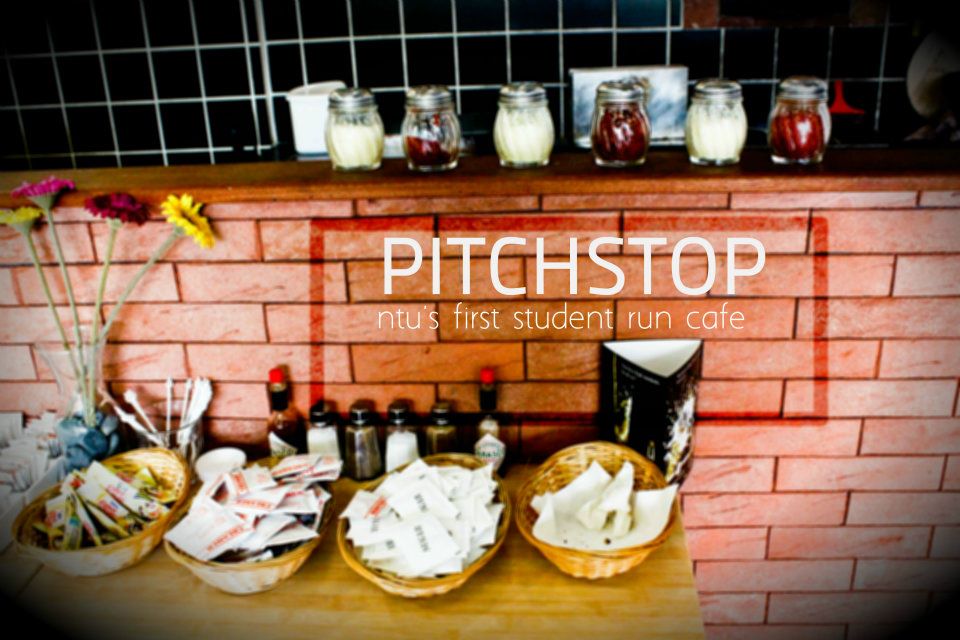 Hi Guys,
When you think school food, you think mystery meat. At least, I do. I blame you, american teenage novels. So a week ago, Andrea and I were invited down for a food tasting session at Pitchstop- NTU's first student run cafe/bar- to demolish that impression.
Now, i've been to Pitchstop several times before. Epiphany had their 2011 Halloween party there, where my plan to get a free dinner failed because noone gave me milk and fish despite being dressed as a cat, we had our un-children's day dinner there, and sometimes when Canteen B is too crowded the lit kids will head over to pitchstop. It's main offerings included pizza, burgers and wraps and coffee, which was all well and good except I'm not a huge fan of burgers. Anyway, they launched their new menu and invited us down to have lunch with them-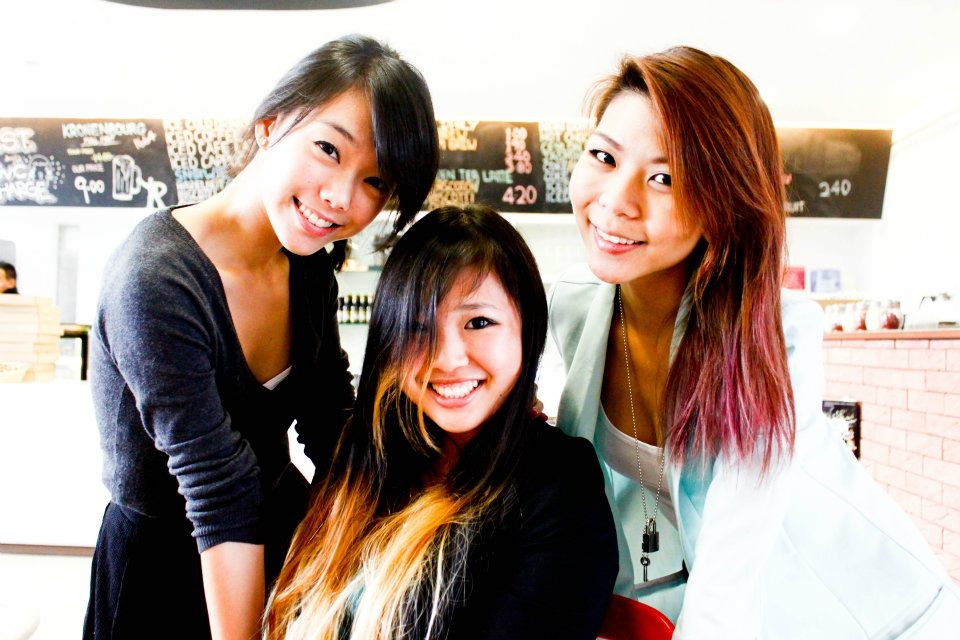 Met Ju there too!
First up- decor and ambience.

This is the inside of the cafe- there's an alfresco dining area too. Both are equally pleasant and scenic, the outdoors especially is surrounded by vines and black stone. Because one wall is completely made of glass (or at least i think it's glass), the entire cafe is bright with plenty of filtered light. This is important because we live in a day and age where having a meal is impossible without first taking a photo of/instagramming it. Lighting is key, guys!
2. New Menu style

Previously, you just went up and ordered based on this little laminated menu. Now, they've got a menu box on each table with a huge pizza feature and then flip cards for the rest of the menu. It's very pretty, but I'm not so sure how it's gonna hold up when the place gets crowded..
3. The food.
I mean, Andrea's face says it all.
But yes, the food is great- must try's include the skinny pizzas that they bake in front of you in the wood fire oven, and the fish and chips! Drea's having the turkey bacon pizza, of which i had a bite. It's comparable to spizzas according to her, i wouldn't know because I've never tried spizza but what i have tried is Skinny Pizza and yes i think it's comparable. It obviously costs more than canteen food, but come on. Theres no way you're getting anything like this in can B.
Andrea also got v excited over the fact that it's a halal cafe because she can come here with her boyfriend ALL THE TIME for her bacon pizza. Note: it doesn't actually state that it's halal- it can't, because it serves alcohol- but we clarified this with the pitchstop folk.
And that brings me to the next point:
4. Ladies night sans cab fare?

Im only kidding. They don't have a ladies night thing going to the best of my knowledge.
But what they do have: drinks. Beer, cocktails, etc. I was pleasantly surprised to see classic cocktails on the menu- screwdrivers, cape cod, gin & tonic- going for only $7 a hit. Bottled beer ranges from 6.50-8$ and they carry old favorites like Corona, Hoegarden, and Asani, to the more premium Warsteiner. It's a fab alternative for those living in hall to replace heading to town because, you know. Cab fare n shit.
ATTN: Cindy Chia.
Ok, cool. Readers, pitchstop folk. Pitchstop folk, readers.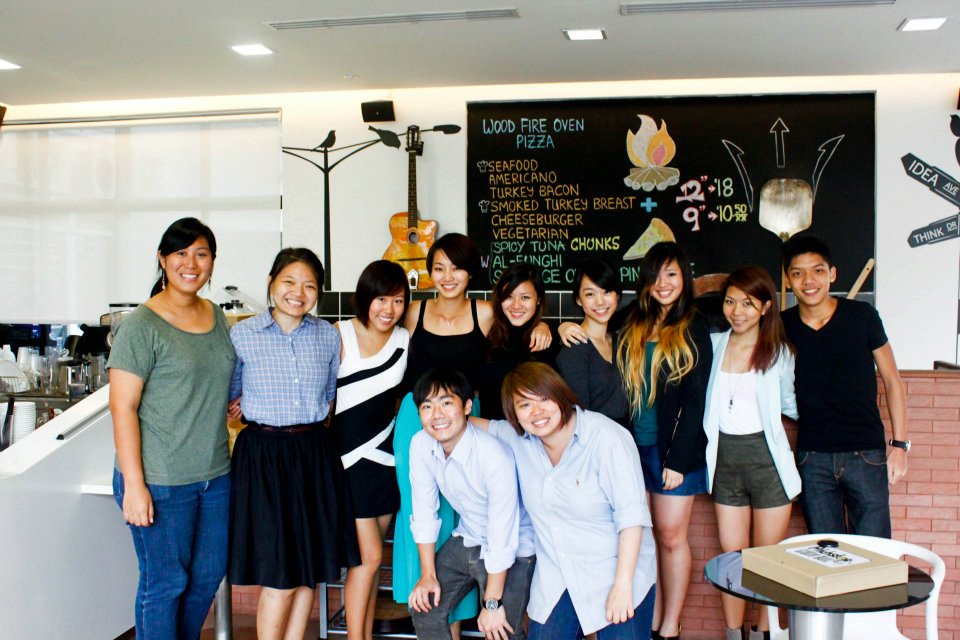 With the rest of the invited bloggers, the pitchstop people, and the people from ADdiction, NTU's Advertising Agency who invited us down!
NTU kids- Pitchstop is located in the Innovation Center right behind the busstop you alight at to get to HSS/NBS/SPMS. It's also adjacent to Canteen B, and extremely walkable from WKWSCI. Probably the best food available on campus, so be sure to check it out once school starts! 🙂
Pitchstop
16 Nanyang Drive
Innovation Centre
Block 1, #01-108
Singapore 637722
Opening Hours: Mon – Fri, 9.00am – 11.00pm
Tel: +65 6792 4338
Website: http://thepitchstop.com
Facebook: https://www.facebook.com/Pitchstop
Also: Read Ju and Drea's reviews.
And since we're on the topic, i thought i'd briefly mention a bunch of other tastebud worthy spots in NTU:
– Canteen 1/2. (Can 1 is my personal favorite. There's a hong kong cafe outlet there, the chinese mixed rice is good, the japanese food is great, and the other chinese store SERVES XIAO LONG BAOS. Nuff said.)
– ADM cafe because the people are friendly and i like cookies
– Canteen 13's Korean food (but they recently changed vendors so idk if the food is still the same)
– Canteen A along the north spine right above macdonalds- variety of food just screams injustice when you look at Canteen B. Don't bother with Canteen B.
– The Quad. Along SPMS. Western food's not bad but mainly i like it because the name sounds cool.
– International Student House- i don't know what the cafe is called. it's right beside where you go to pay your bills at the top of the hill. Serves pretty good western food, and there are rarely queues, which of course is fab.
– &SUPPERCLUB
SUPPERCLUB ntu is i think a one man show where this nighttime hero delivers food to hungry hall students till 2am. Orders are placed via the FB page. Food options normally include 51 tauhuey, boon lay power nasi lemak, ah lian bee hoon, and bedok 85 bar chor mee. If you're living in hall, supper club will pretty much be your best friend. FB Page here.
You are welcome.
x
♥jem