Currently listening to:The one that got away by Chester See ft. TiffanyAlvord
Status:MMMMMM
An impromptu decision to drop by Holland V after school which might have turned out to be the best decision we've made in a long while..
Introducing Plain Vanilla Cupcakes, a three month old bakery tucked away in the second floor of a Holland V Shophouse, which churns out the BEST CUPCAKES IN SINGAPORE. When i say tucked away, i really mean tucked away, Sally and i literally went hunting for it. It's right down the street from coffeebean, and shares the shop space with MAD about hair. The easiest way to find them is to look for Harry's Bar- its right opposite, sandwiched in between Strip and some mexican? spanish? idk what restaurant. Just look for this tiny nondescript glass door leading up a stairwell and you've got it.
In the evenings they put out the 'freshly baked cupcakes upstairs' sign but in the afternoons which was when i first went, its REALLY difficult to find. Not the kind of bakery you'll stumble upon unless you're specifically looking for it- totally a hidden gem.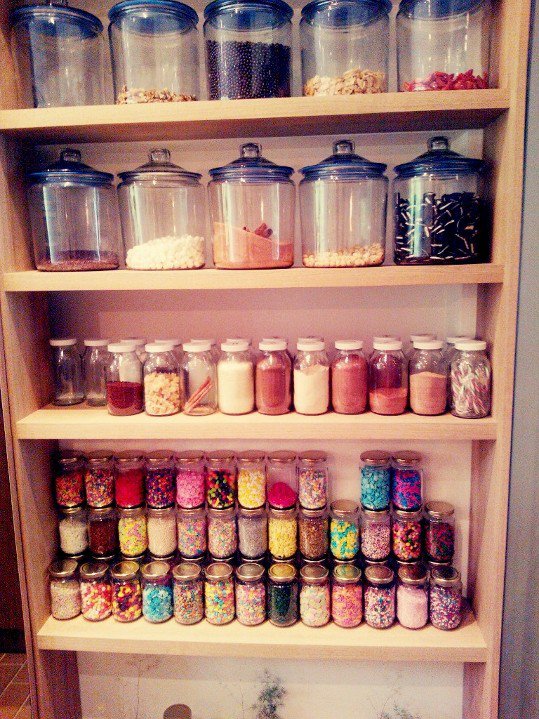 The inside looks like a glammed up version of Willy Wonka's factory, very quaint and lovely. This wall of fine, fine candy colored toppings got the child in me so excited i wanted to open up the glass jars and try everything but i have vast quantities of self restraint. Yes.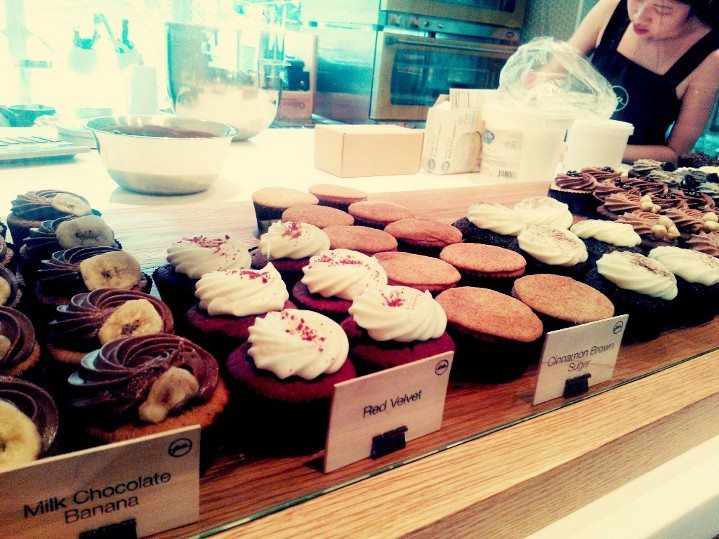 LOOK AT IT.
its one for $3.20, and 6 for $18, which is really reasonable for gourmet cupcakes- i had a red velvet cupcake from starbucks a few weeks ago and it cost me three fifty and did not taste like proper red velvet i was not happy about this.
rather than wax lyrical about how amazing their cupcakes are (stooffi recently did a review for them you can read it here, also, do support her #itsgoingtogetsensational campaign here) i shall instead describe my friends and their reactions to the cupcakes
1. Cindy
who has tried PV cupcakes multiple times but still squeals like a baby with each bite
she tried the chocolate Guinness stout and she started giving out this really high pitched noise
eeeeeee it is damn good eeeeeee try this eeeeeee omg eeeeeee
EXCEPT she didnt actually say eeee she said something else have fun guessing.
2. Sally
who has never tried PV
first bite into the Milk Chocolate Banana
she couldnt speak
and went on to eat her Irish Cream cupcake in spite of previously saying she was only going to have one.
her exact words re: milk chocolate banana were
"the banana really very gao (which i think means thick) and the frosting is SO AMAZING"
3. Syaf
a snap decision between ern and her to come down and meet me after finishing school in NUS
she took a bite of the Dark Chocolate Ganache in the shop itself
how is it? good? i asked her
she looked at me
speechless
went outside
and sat down
4. Ern
bought two, decided not to eat it and save it for a late night essay writing snack
later on on twitter
iernmannn: "@jemmawei @coyotedreamsong it is gorgeous i inhaled one by myself i am saving the other for later TMR IM GOING BACK"
5. Shane, Seth and Tim
bought cupcakes back for them
and received smses/whatsapps/fbmessages regarding how DELICIOUS and EXCELLENT they were
these are boys talking about cupcakes
I rest my case.
So far Ive tried the cinnamon sugar (bite from cindy's), white chocolate strawberry (cindy bought this for me last month), milk chocolate banana (bite from sally's), guinness (bite from cindy), dark chocolate and irish cream. EVERY ONE OF THEM AMAZING. Now i understand why cindy replied "EVERYTHING IS" to my question "Whats good"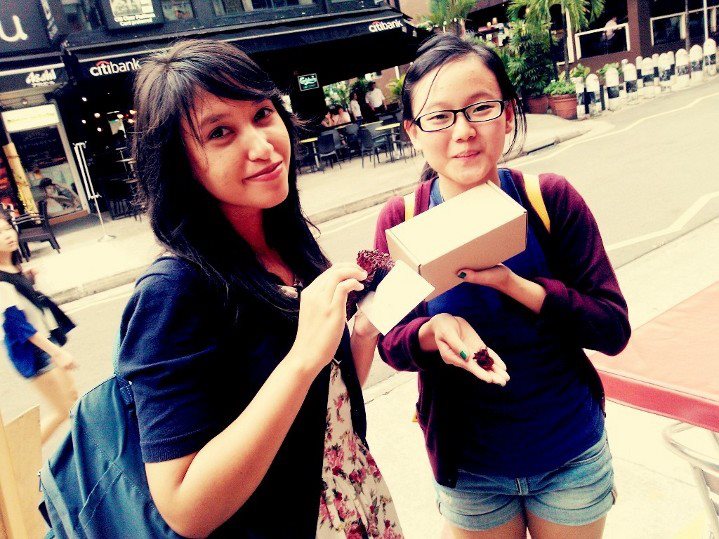 Syaf and Ern
Safely the best cupcakes in singapore, Cindy actually begged me not to write about them in fear that they'd get too popular and open franchises = cupcake standards dropping, but it would be a CRIME to hide these away.
they're really popular (in the shop itself this other girl came in gushing about how she'd been craving them the whole day and proceeded to buy up a bunch) so if you're thinking of going, tweet them or write on their Facebook wall to ask for their cupcake count/ variety or make a reservation.
Plain Vanilla Bakery
34A Lorong Mambong, Holland Village, Singapore, Singapore 277691
64655942
website | twitter | Facebook
You won't regret it.
x
♥jem