Currently listening to:Haven't met you yet by Michael Buble
Status:immersed.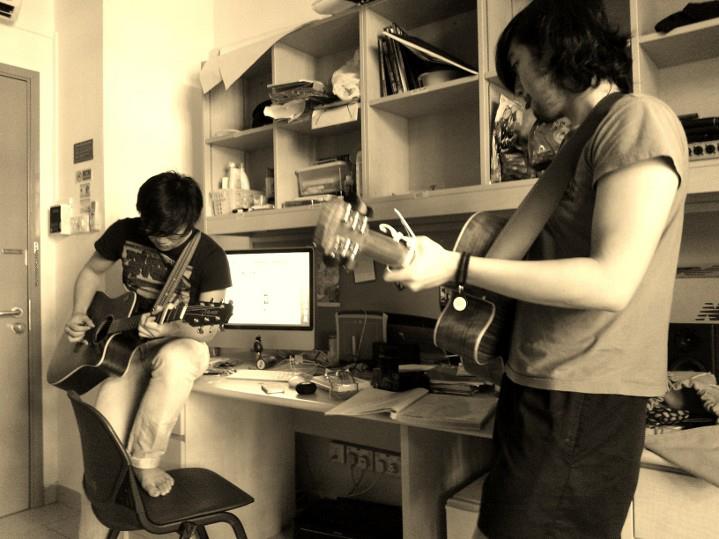 Afternoon blueberry jam with Marcus and Jonathan.

I came home today to see my baby sister of twelve sitting on the bed with her book, a female voice rambling out of her blackberry on speakerphone. What are you doing, i asked her, and she gestured to the blackberry while reading her book, inserting uhhuhs and aahs as and when in varying tones of interest and surprise.
Finally
Baby Sister: "okay, i have to go."
Friend: "I love you!"
Baby sister: "Okay"
In the history of language, the first obscenity was silence.
Friend: (dismayed) "you didnt say i love you too!"
Baby sister: "i've told you before."
And i thought to myself redundantly, same situations, different people, and of all ages.
She said, I love you.

He said, Nothing.

(As if there were just one
of each word and the one
who used it, used it up).

In the history of language
the first obscenity was silence.

The Primer by Christina Davis

In other news, this week has been hectic, in the best way possible, but after a while even laughter drains you. Spent all my free time in the week reading books lying outside the parenthesis of academia, a very bad habit i need to kick over the next semester. Besides that, I've been popping in and out of school meetings, rehearsals, practices, lectures, and immersing myself in coffee, just yesterday i spent nearly seven hours rehearsing and singing, at the end of it all i could hardly squeak. I sang at Black Box last night with Marcus for the Epiphany's open mic event, he was very good but i was obviously terrible.
Also i had breakfast for dinner with Mavis tonight, and in conversation we have concluded how bored we are with our lives, endless repetition it DRIVES US MAD and we are going nowhere.
Hence we embark on our Grand Plan tomorrow, with capitalized first letters for flagged importance in the iCals of our minds. The aim is to do something NEW and CRAZY every week that we have NEVER DONE BEFORE, the rules of the game are carved in stone, but it is soft stone. I have played this game before, but with myself, and bets with myself don't last that long because i win every argument i hold with myself. Conversely you could say i lose every argument, but it amounts to the same, really.
It shouldnt be hard, its the Chinese New Year long weekend. Lots of opportunities for insanity.
x
♥jem