Currently listening to:the boy who blocked his own shot by brand new
status:i think soap got into my eye. crap.
a few things:
1. above pictured, HSS literature pizza party organized by julienne and andrea at The Steps. THE STEPS Y'ALL HOW COOL IS THAT. reminds me of brooklyn college's steps. coincidentally andrea is also running for NTU's Hall 11 paegent, you can vote for her here.
2. i used to think that math was my greatest nemesis. i was wrong. after living alone for close to a month now i have come to the realization that it is dust. a month ago i was all dust, this is broom. dust, this is towel. They will destroy you, dust. ala james frey but NO. i have failed. i cannot defeat dust even with the help of mamalemon. it is the singularly most annoying and clingy thing Ever. having to clean up your own room is like being in a depressive and really clingy relationship.
3. received a package yesterday, looks like a new giveaway is coming up so watch this space. also for those of you who think you're hot, presenting the Thank God You're Hot contest, blogger collaboration with Campus SG and Butterfactory.
4. I am unhealthily addicted to EA's sims social, this is just like that pokemon phase i had last year and the maplestory/neopets revival two years back. Also Georgina is making me miss New York with her emails.. but my bank account can only handle that spontaneously-book-the-first-flight-out thing once. We hang out in each other's Sims Social pads all the time though. Hurray for virtual reality.
5. have a doodle, people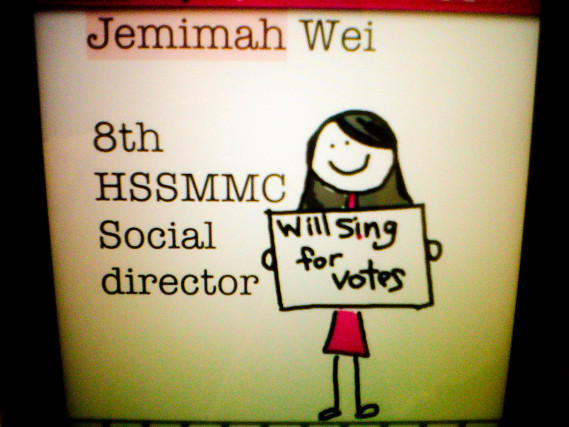 so it looks like im running for the post of Social in the 8th HSSMMC. Voting is this thursday (you need to bring your matric card!) from 1030am -5pm at .. wait for it.. THE STEPS. Pizza not included. Votes are very much appreciated, if you vote for me i'll wax around lyrically in gratefulness then sing you a song.
x
♥Jem