Currently listening to:Taylor the latte boy by Kristin Chenoweth
Status::/
As im packing my luggage for the trip back to Singapore, Im having a major case of why-the-hell-did-i-buy-this-doknkulus. It has occurred to me that buying a furry towel and a furry king sized bed throw is not the most luggage-friendly idea.. also, i've been living the past three weeks in major denial mode: buying things without thought of how i was going to lug them back, i think i must have subconsciously thought that three weeks was a lifetime and that i was staying in NY forever.
Yesterday, my last full day in New York, we tried getting How to succeed in business without really trying and Wicked! Broadway tickets and failed miserably at both, went down to Red Lobster on the fringe of Times Square for a five course lunch:
I've heard how good Red Lobster is, but how good can it be, right? and i dont even like seafood. WRONG. It was, one of the best meals i've eaten in New York. Without a doubt.
This was just the appetizer, it was free flow, and it was THE BEST THING IVE EVER TASTED. It's some cheddar biscuit thing similar to the type they serve at Popeyes, but this is SO MUCH BETTER. I had a bite and i swooned i was like what is this wonderful amazing thing is this part of the man course but no, it was the appetizer.
I thought things couldnt get any better, but the Caesar Salad was awesome, the Manhattan Clam Chowder was yummy, our linguine was fantastic but the last course, desert, was divine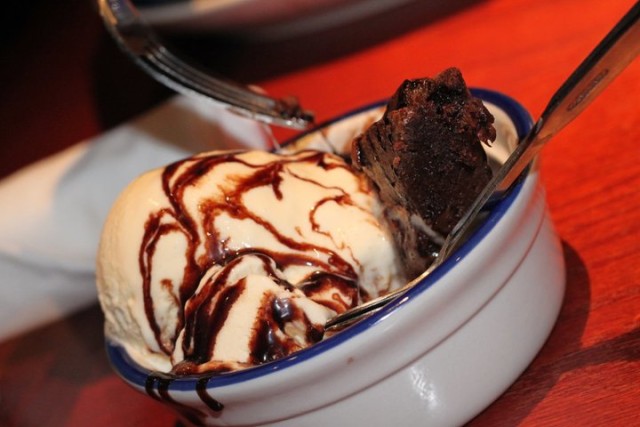 "This is the hottest brownie in new york, the server says as he sets it down. i thought he was exaggerating, but G and I took a bite and lets just say she spent the rest of our meal trying to convince me that it was fattening so she could have the rest.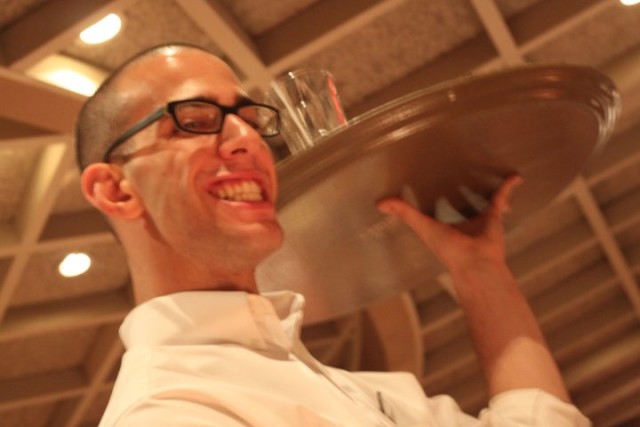 aforementioned friendly server his name is Daniel SAY HI TO DANIEL EVERYBODY
it was so good, we couldnt finish a single course (half the biscuits, half the soup, one quarter of the main course, three quarters of the brownie, but we were SO FULL after that. Still, one of the best meals EVER.
I need to start repeating to myself frugality is a virtue frugality is a virtue because i really broke the bank on these two. The bag is made of genuine distressed leather, and it's soooo lovely. I convinced myself to dole out the cash for this baby, on the grounds that i've been looking for a bag of this shape forever, and its time to invest in a really really good bag. Still, its probably the most expensive thing i've bought it my entire trip. Possibly the most expensive bag of my entire life. Also i'm going to stop talking about it now because it is depressing to think of how much i've spent.
Also, the Steve Madden Kimburrs which i've been looking for for about three weeks- finally found one in my size! I went through the entire ive been wanting these for three weeks, time to invest in a high quality pair of leather boots right?? routine again (jemimah wei you live in SINGAPORE not New York you DO NOT NEED A PAIR OF BOOTS)… I bought them anyway. I am in love, in love with my bag and shoes and bag and shoes and bag and shoes, i am also very determinedly ignoring my dwindling bank account. The day i realized i could withdraw money from my Singaporean bank account in new york was the day i knew i was going to be a very broke girl.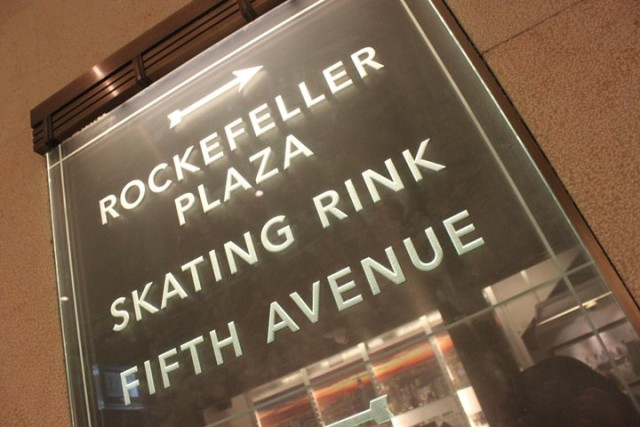 Cabbed down to Top of the Rock, Rockafella, after church for the legendary night view.
Sitting at the top of Rockafella staring at the whole of Manhattan, Brooklyn, Queens and the Bronx, night lights winking at me and reminding me that it was my last night.
G and I waltzed around on top of Rockafella with the wall, step step dance switch partners! step, step dance.
Stayed up till 630am talking to G again, made plans to meet one or two years later in Greece and Athens, maybe Paris next year. It seems difficult to believe that someone so close to me is someone i only see once in a few years, meeting halfway in countries here, there, i dont see her enough, but i am glad that even apart, we live our lives parallel and grow together.
That was last night, we're heading to Brooklyn for brunch in a moment. Tonight at midnight, i start making my way back to Singapore.
Missed me?
x
♥ Jem