Currently watching:Pride and Prejudice
Status:Still Sick
So what i can tell you is that falling sick the day before flying:
1. sucks
2. makes you panic
3. makes you wonder if they will let you on the plane
4. makes you pump yourself full of medicine and then feel like crap
Also, this weekend i:
watched Taken, The Next Three days and Pride and Prejudice with my family (oh mr darcy how dapper)
finished reading My Friend Leonard by James Frey, it was very good.
On the other hand, i have finally gotten the photos of my eighteenth surprise, albeit nearly a year late, from Shruthi Avadhani!
Was basically jumped and blindfolded after my history exams last year, got a shock, thought wildly THE NINJAS HAVE COME TO GET ME then realised ok no, its my birthday, this might be a surprise, that makes more sense. Was made to walk down a flight of stairs winding through the school with an unfamiliar phone clutched to my ear and a menacing voice giving directions and threatening the lives of my sisters..
Prior, i had completely not expected this because it was smack in the middle of prelims and i assumed everyone would be tied up with revision, thank you all so much :')
nyahaha last time my face so round like a fishball hahahah
ok wait thats not funny
Felt so appreciative because even all the people who didnt have exams on that day/had major papers the next day/werent even from meridian came down!!
sneaking past security guards, borrowing extra school shirts and all that.
BBF : "This is the best card ive made in my entire life!!!"
Me: "oh my dear bbf in that case then your card making skills are questionable but i am so touched THANKYOU♥ "
Special thanks to Xiaoqi and Dan who orchestrated the entire thing, major ♥s
Thank you to everyone who came down despite it being in the middle of your exams
Seeing my different groups of friends come together meant more to me than i know how to say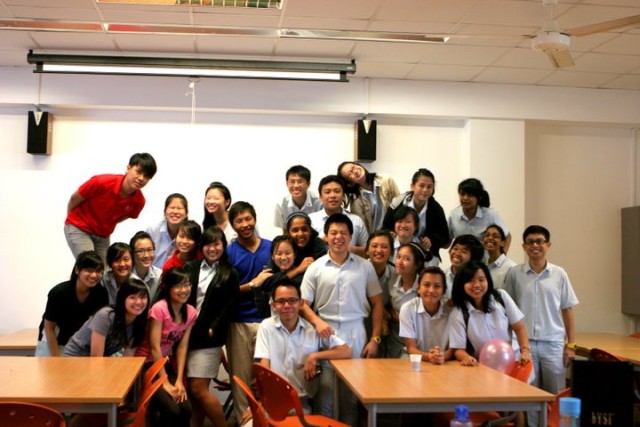 Rest of the photos here
I LOVE YOU GUYS
safely can say that it was one of my best birthdays ever, so very, very touched by all the effort put in ♥
Looking through the photos
i thought to myself again about the concept of needing someone in your life versus wanting them there
how many people would go through the tremendous effort of getting so many people from different cliques and schools down during the middle of the A level preliminary examinations together and throwing a fantabulous surprise
baking, sneaking around like ninjas, flowers, playacting, surprising
It's nearly midnight and Sharon just dropped by in her car to pass me things she thought i'd need for new york, aaron too, but he came to antagonize me.
I received a bunch of emails again today enquiring after my health thanks to last night's post
More offers of gifts for my trip from people i havent even met in real life
recognized:
i am one very blessed girl
very fortunate to have friends like these
even, non-friends i have never met
very
thankyou.
x
♥Jem