Currently listening to:Come round soon by Sara Bareilles
Status:Excited
So! Photobucket's being a bitch (you might have noticed the obnoxious BANDWIDTH EXCEEDED logo replacing all my images on this site) but i have found a way to combat it i created a new photobucket account so i can upload more photos HA TAKE THAT PHOTOBUCKET
Also they promise that all my images will be restored to normal on the 2nd so im holding them to it.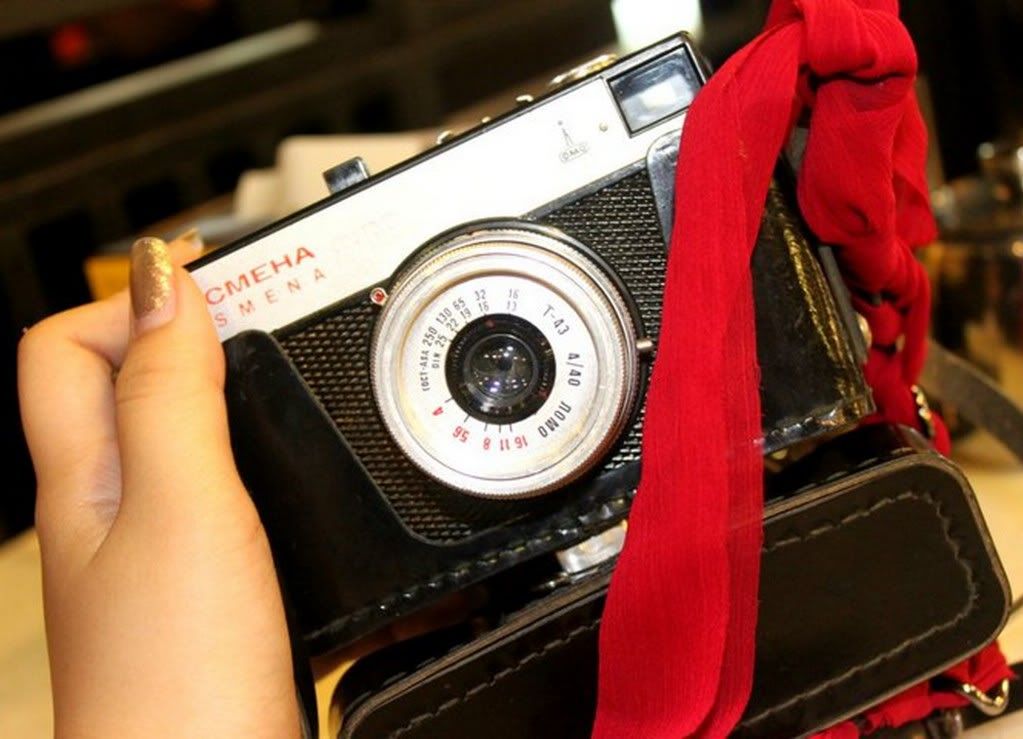 Anyway, check out my new baby! The Russian Smena 8m, its so lovely i could swoon. After much discussion + a twitter poll i decided to name it Dmtri. (Other options included Klaus, Petrov, Anastasia.. except the DSLR is a girl so this one has to be a guy.) Photos will be up when i've developed my virgin roll!
Other film users, you can buy film from OldSchoolAnalogue– they deliver!
So, yesterday i woke up to a long text from XQ essentially dumping me for the afternoon for sleep.. tis my life. Anyway, after giving tuition in the morning i went off to buy my camera, then popped in and out of town.
Pasir ris > Cityhall > Somerset > Orchard > Dhouby > Somerset again

Ninja much. Also, it caused my ezlink card to go somewhat anorexic.. sigh.
It was good though, i like being alone. I find it peaceful, i enjoy being with friends but i also enjoy roaming around town/the country/other countries alone with my thoughts and ipod.
Either way it means im mostly quite happy and contented so i guess its a good thing. I went off to Spotlight in an attempt to buy yarn (intending to take up knitting) but i am ashamed to say… i was so intimidated by all the yards and yards of fabric and the notion of creating something out of nothing so i ran out of spotlight completely cowed.
I will gather up my courage and attempt to return with moral support (ranice narnia tan) on wednesday.
Met up with XQ and later, Fee and Dan in the evening.
This new open concept cafe called A.venue down at Cine on the third floor. Doesnt the food look absolutely scrumptious?! XQ's Timmy C sandwich was very, very good. My salad was great but the salmon was kind of meh (and im very picky with my smoked salmon) so i suggest you dont opt for the $3 salmon add on if you get the ceasar. Fee had the apple crumble with vanilla ice cream which was good too.
It's relatively affordable for a cafe in town- depending on what you buy you'll spend about 10-20 dollars but probably not more.
Wearing Fee's NS specs which are too big for my face and kept slipping off. Geekymeemah attack!!
Oh yeah i bought felt white roses for my bag ala Shin Park. Pretty
Nyahahah @Dan's face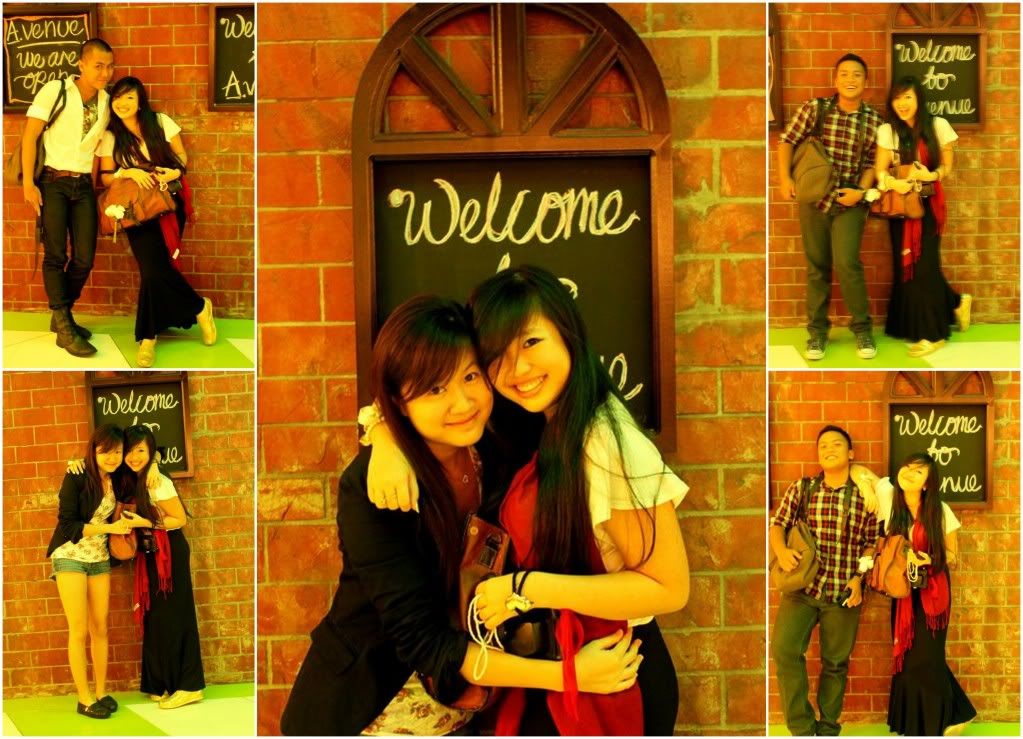 (The photos are all so yellow we look like we have jaundice 🙁 need to learn how to fiddle with the Kiss properly)
First time wearing a maxi skirt – actually it's just my old choir skirt which i pulled in a little and wore out- so i was slightly self conscious… hey look! Matching Toms! (Mine's in gold glitter and XQ's, black glitter)
We went to watch Dylan Dog after that because Kung Fu Panda 2 was sold out (THE KABOOM OF DOOM!!! NYAHAHA SOUNDS SO FUNNY) and it was easily the worst show of the century. It made Beastly seem bearable.
Brandon routh (that superman dude) was in it but even he couldnt salvage the show: it had a bad storyline, insufferable acting, the jokes were forced, the main leads slept together halfway in the show (like we didnt see that coming..), the main girl was a major pain in the ass, and halfway through people started walking out… Xiaoqi next to me turned towards the wall and took a nap.


Yes so conclusion: please dont watch it. You could do a lot more with ten fifty (saturday shows pricing)
On a scale of one to ten: minus fourteen.

This week i finished: Fallen Skies/ Philippa Gregory, Can you keep a secret?/ Sophie Kinsella, The White Queen/Philippa Gregory, Under the Dome/ Stephen King. The last three are re-reads, i've read can you keep a secret about five million times haha.
Fallen Skies (despite sounding like an emonemo teenage child's email) was alright, but on hindsight i feel as though Philippa Gregory should stick to writing about English history. She does the tudor era beautifully, but her more modern books are kind of.. blah. I stopped halfway through A respectable Trade (also by her) because it just couldnt hold my interest.
Going to tackle Invisible/Auster next.
Okay that's about all i've got to say. Great Singapore Sale has started, which bodes not well for my bank account… oh well. There are also pretty exciting things coming along. Georgina Pang if you're reading this please get off my blog and go and reply my email!!
x
♥jem